It does not matter how strong you are as a person, if you do not ask for help when you need it, or learn to take proper care of yourself, then you will be more susceptible to workplace stress than any of your co-workers. You will find some degree of workplace stress in any occupation you think of, but having this stress when you are a nurse can be a little more severe because of the kind of work you do and because so many are counting on you to be well so that you can take care of them. The best way to deal with workplace stress is to try to avoid it where possible and find a coping mechanism for when you can't so that you can take care of yourself.
Know What You Are Letting Yourself In For
If you are only going into the occupation of nursing now, then you should make sure that you are well aware of all of the stresses and strains that you will have to endure. Once you know what you are letting yourself in for, you will be able to develop ways to cope with these problems.
Some of the factors that contribute to the stress of your day will include:
Long working hours
Long hours spent on your feet
Large amounts of physical labor
Emotional strain when dealing with terminal patients
Dealing with Death
Emotional stress of giving family members bad news
Discrimination
Physical and verbal abuse from patients
The knowledge that the amount of work you do may not equate to the remuneration you receive
Know The Signs
If you do not know you have a problem, then how will you solve it? When you know what to look out for, you can seek help sooner rather than after the problem becomes a catastrophe. Some nurses become involved in negative ways to cope with their stress which has an even larger negative impact on their lives and health.
The best way of knowing that you are heading towards the dangerous side stress is to look at your physical symptoms over the past months. There are several symptoms that could indicate that you are heading towards a heart attack or mental or physical breakdown.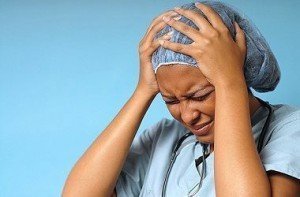 Disrupted sleep patterns and chronic fatigue
A sudden increase in blood pressure and pulse
Shallow or rapid breathing (hyper-ventilating)
Tension in muscles, especially around the shoulders and neck
Appetite disorders such as loss of appetite or overeating as well as sudden indigestion
Constipation or diarrhea that is out of the ordinary, in other words not because of something you ate
Dry Mouth or constant feeling of thirst
Clamminess or excessive perspiration even when it is cold
Decreased libido
Nail-biting
Irritability and loss of sense of humor
Poor concentration
Panic attacks at the slightest and smallest problem
Frequent worrying or feeling of anxiety
Bad Ways Of Dealing With Stress
It is easy to try and drown your sorrows in a bottle even when you know that you are doing damage to your body. If you find yourself partaking in any of these activities to relieve your stress then you should seek help immediately.
Negative stress relievers are:
Excessive use of alcohol to the point of not being able to get through a day without a drink
Smoking tobacco
The use of any medication, other than something prescribed by a doctor within the safety limits, or recreational drugs to relieve stress
If you think you may fall in to these categories then you should seek help and re-evaluate how you deal with stress and find other coping mechanisms. You may not even think you have a problem, but if you have to take painkillers because the stress of your work weighs too heavy on you, then you may have a problem. Taking sleeping tablets just to have a good night's rest is also a sign that you are not coping with your stress properly.
There are also many perceptions of what makes a person an alcoholic. How many drinks are too many? You don't have to get completely drunk every night in order to be classed as an alcoholic. Having a social drink with friends to relax is a completely acceptable way to enjoy alcohol as is having a drink with your evening meal with your family to relax and have a good time with them. In each of these cases, the alcohol is a secondary ingredient to the relaxation. When you are simply having a drink just because you need to calm down or relax, you may want to have another look at whether this is the best way to treat your stress.
How To Cope With Workplace Stress
There are many ways in which to deal with workplace stress which is constructive and will give you a more positive outlook on life.
Get To The Bottom Of The Problem
Workplace stress often has a cause and if you can pinpoint the problem that is at the root of your problems then you will be able to distinguish what it is you can do to change your situation or if there is something that you cannot do anything about.
You can make a list of all of the things that are contributing to you not being able to handle the stress anymore. Divide these items them into two categories being, those you can do something about and those which are just part and parcel of your occupation. You can then start devising plans on how to solve the problems that can be solved and to find ways to deal with the stresses that you cannot do anything else about.
Socialize
One of the best ways to counter a hard day is to get out with friends and let your hair down. This makes all of the troubles at work seem a bit further away. Although your problems will probably still be there when you get back to work, when you remove yourself from the situation and stop thinking or worrying about it for a while, even if just for an hour, then it is easier to deal with when you get back.
Many hospitals have social clubs for their staff where the staff members get together to socialize. When you are at one of these events, refrain from talking about work. Rather try to find out something about your co-workers that you may have in common other than your employment and rather talk about that.
Get Out And About
One day when you cannot work anymore, the only thing you can fall back on is your family. Do not forget about them and find time to spend with them where you can engage with them in a fun and relaxing way. There is more to life than working and school schedules. Make sure that your children are not overburdened with school activities so that when you need to spend time together, it isn't at some competition or match. Rather use the time you have at your disposal to connect with your family.
Join a gym and get some good exercise in to dispose of all of your frustration and all of the negative effects on your body from the stress you go through every day. When your body is in shape, you will also find that you can handle stress a lot better than when you don't exercise. Your immune system also becomes stronger because you are getting rid of all of the toxins that build up in your body due to stress and other natural processes.
Time for yourself is also very important, whether you spend the day painting your own toenails and buffing your skin or whether you book yourself for a spa day filled with massages and facials, you need to pamper yourself.
Work Related Assistance Programs
If your workplace has an employee assistance program then you should make use of these services as often as you can. Some of these services may include a gym, psychologists, support groups and other services that you may need to keep you happy as an employee. Do not feel bad or ashamed to use these services. Many of your colleagues may already be using these services and you may not even be aware of it.
Relax And Stay Healthy
Eating according a healthy eating plan will do you the world of good and can go a long way to help you to feel refreshed during your workday so that you can deal with issues and problems as they arise instead of not having the energy to even get out of bed to even go to work. When you eat healthy, your body will respond accordingly and you will spend less days feeling drained and sick and have more energy to tackle the challenges that may lie ahead of you.
Relax when you can and play as much as you can. A healthy balance in your life will make your problems in one area of your life pale in comparison with the blessings you experience in the rest of your Life.