What Is Travel Nursing?
A travel nurse is a nurse who does not work in a set location. Travel nursing involves, literally, travelling to an area or facility in which your nursing skills are needed. Generally speaking these assignments last between 4 and 26 weeks and there are a number of different specialties that you will be able to work in. Because certain areas of the country always have a shortage of nurses, there are always places that will need your travel nursing services desperately.
Nature Of The Work/duties
As a travel nurse you will have the same job duties as a regular nurse, including, but not exclusive to:
Writing patient care plans
Checking and administering drugs and injections
Setting up drips and blood transfusions
Assisting with tests and evaluations
Carrying out routine investigations
Planning discharges from hospital and liaising with community nurses, GPs and social workers
Advocating on behalf of patients
Organizing staff and prioritizing busy workloads
Mentoring student and junior nurses
Maintaining patient records
Making ethical decisions related to consent and confidentiality
The key difference is that, unlike a regular nurse, you will not work in a set location. Rather you will perform these tasks in whatever setting you are sent to in your capacity as a travel nurse.
Employment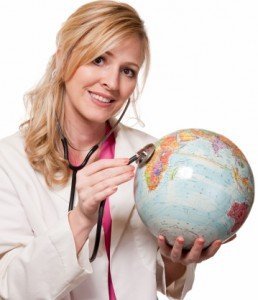 You can improve your chances of employment as a travel nurse by ensuring, firstly, that you have sufficient qualifications. You will need a nursing qualification, obviously, but the more advanced the qualification, the better your chances. Certification in a specialty will also help. Having a clear idea of where you would like to work as a travel nurse will increase your chances of employment in a job that suits your needs and your personality. Nursing job fairs are a great place to come into contact with potential employers or even simply to get an idea of what your employment options are. Nursing agencies are an excellent source of information on this topic so you should belong to at least one to be employed. Nursing colleges also have an idea of what your employment options are.
Travel Nursing Requirements
The following are the basic requirements for being a travel nurse:
You need to have a nursing license as either an RN or an LPN. These licenses are required in every state.
You need to have a minimum of 1 year of experience as an RN or as an LPN, depending on which license you have. Good places to earn this experience are hospitals and nursing homes.
Generally speaking you will need to belong to a travel nursing agency.
This last point is one that you need to keep in mind. Many states require that you belong to an agency. However, even when it is not a requirement you should join an agency as this will give you access to more jobs. Some agencies are better than others, so research well and choose carefully.
Personality Traits
To be a successful travel nurse you will need to have the following very important personality traits:
You need to have a genuine and great love for travel.
You will need to be flexible enough to deal with the combined stress of travelling and nursing.
You will need to adhere to a schedule, just like any other nurse, requiring time management skills.
You will need to be extremely hardworking at all times and in all locations.
It will help if you are someone with a personality that finds it easy to make new friends as you will frequently be in new towns and cities and may otherwise end up feeling very lonely.
You will need to be devoted to your personal relationships as your travelling will take a huge toll on them.
You should have an appetite for adventure, a strong work ethic, confidence in your medical knowledge, and an outgoing personality.
Educational Requirements
Although it is possible to be a travel nurse as an LPN, it is often better to become an RN before applying for a position as a travel nurse. This is because you are more likely to be hired if you have an RN qualification. You will need either an associate's degree or bachelor's degree in nursing. Although it is recommended that you get at least one year of experience as an RN before applying as a travel nursing agency, you will have better luck if you have as much as 3 years of experience. So, although the educational requirements themselves are not significantly different as the educational requirements you would need to be a regular nurse, the path to becoming a travel nurse can be longer due to the experience needed.
Licensure
To be a travel nurse you need an LPN or RN license (although an RN license is better). In both cases you will have to complete a training program that is accredited by your state. RN training programs usually culminate in degrees and take much longer. Once you have completed the training program in questions you must:
Apply with your state board of nursing for LPN or RN licensure
Pass the national exams for each license
The national exam for an LPN license is known as the NCLEX-PN and the national exam for an RN license is known as the NCLEX-RN exam.  In both cases your license will have to be renewed periodically depending on which state you live in. In some cases proof of continuing education must also be presented for renewal.
How To Become A Travel Nurse
Training, Advancement And Other Qualifications
There is no additional training required to be a travel nurse. You simply need to earn either an LPN license or an RN license (although, again, an RN license is preferable and will provide you with more employment opportunities). The theoretical and clinical training involved in obtaining these licenses, combined with at least 1 year (but preferably more) of experience as a nurse will allow you to join a travel nurse agency. You may end up advancing your career if you enter a job that requires a nursing specialty certification. This may inspire you to study further and become a nurse practitioner in a particular field of nursing. In the long run this will earn you both more money as well as more respect.
Source An Accredited Education Program
Let us assume that you want to pursue an RN qualification over an LPN qualification in order to improve your chances in the field of travel nursing. RN programs are offered online and offline from a number of universities, colleges and schools and often consist of earning a degree. However these programs need to be accredited, usually by your state board of nursing as well as by other accrediting bodies. The website of your state board of nursing is a good place to begin your search for an accredited program and is the most reliable way to determine whether or not a program you are interested in is, in fact, a good or sensible choice for you to make. The school itself should also be open about accreditation information on its own website.
Earn Your Associate's Degree
An associate's degree in nursing is an ideal qualification for a nurse who would like to specialize in travel nursing. This is because it will earn you the right to become an RN nurse. Associate's degrees in nursing are offered at:
Vocational schools
Community colleges
Universities
Some hospitals or other health care facilities
This degree will take you a few years to complete so you need to be aware from the outset just how much time you will have to devote to the qualification in order to receive the associate's degree. Other degrees you could consider earning are:
A bachelor's degree in nursing
A master's degree in nursing
A doctoral degree in nursing
With each degree you will have more opportunities for employment and earn a higher level of respect from your peers.
Obtain Your Licensure
The only license that you really need when applying to be a travel nurse is your LPN or RN license mentioned earlier (Note: an RN license will result in more job opportunities). When applying to be a travel nurse at a travel nursing agency you will need to present:
A valid form of identification
Your registered nursing license OR your licensed practical nurse license
There is no additional certification in order to be travel nurse. However if you have certification in a nursing specialty you will find it is easier to receive employment. Travel nursing assignments could be in any field, so you will have wider access to a wider range of different nursing assignments if you have a specialty in nursing. The more certifications you have, the better your employment chances.
Online/Distance Education Programs
Earning your associate's degree online is only partially possible. This is because, in order to complete a qualification in nursing, you have to do both theory and clinical hands-on training. Hands-on training cannot be done online or over the internet as you need to get firsthand experience in an actual health care facility or setting in order for the licensing bodies to be sure that you do, in fact, know how to perform the basic tasks that are expected of a nurse. However, as long as you make provisions for completing your clinical training through an acceptable means, you can complete the theory training online and in your own time. This will make it far easier for you to fir your nursing training into the schedule that you already have.
Job Outlook
The job outlook for nurses who want to work in travel nursing is extremely good. This is because there is a shortage of nurses across the country, and this is a problem that is unlikely to be resolved in the near future. Consequently, as a travel nurse, you can be guaranteed of work in practically any state across the country at any time. There is unlikely to ever be a time where there is no facility anywhere that needs the assistance of a travelling nurse. In addition you may also have the option of becoming travel nurse that travels overseas in order to work. Travel nursing can also be an international affair, so most of the world provides job opportunities for you, as a nurse with experience in travel nursing, to take advantage of.
Earnings
Depending on your location (as salaries differ significantly from state to state) and n your experience you can bring home about $80,000 to $90,000 per year as a travel nurse. A closer look reveals the following earnings information:
You will receive around $40 an hour for most assignments
In addition to the $40 an hour you will also receive many benefits and perks
If you add the benefits that you will receive to your annual pay it comes to a total of about $100,000 to $110,000 a year
This is substantially more than what you would earn as a normal nurse, but you will have to assess whether or not the contingent upheaval of your life is worth the pay.
Travel nursing is not for everyone. Nurses who usually pursue a career such as this do not have any strong family ties to hold them back. This is a good thing as travelling constantly can disrupt interpersonal relationships. In addition having pets will make being a travel nurse difficult as you will need to find someone to take care of them. Generally speaking travel nurses are younger and they do not continue in that particular line of work for their entire career but instead choose a nursing specialty to focus on in a stable setting. Travel nursing can help you decide:
Where you would like to work as a nurse
What specialty you are most skilled at in the nursing profession