What Is Perioperative Nursing?
Perioperative nurses are also known as Operating Room (OR) nurses because their skill set lies in assisting the doctor in the operating room during surgery. A Perioperative nurse is a registered RN. A career in this specialty will be highly intensive as even routine procedures in the operating room require strict attention and concentration in order to avoid disasters. This is not a specialty that suits everyone, and careful consideration is needed before enrolling in a course for this specialty.
Nature of the Work/duties
Perioperative nursing involves working very closely with the entire surgical team. There are two main functions that you could serve in a surgical setting as a Perioperative nurse:
Scrub Nurse
Selecting instruments and supplies used for the operation
Passing instruments and supplies used for the operation
This is an extremely important role. The surgeon does not have the time or the ability to do this himself and requires a knowledgeable nurse to hand him what he needs when he needs it.
Circulating Nurse
Managing the overall nursing care in the operating room
Helping to maintain a safe, comfortable environment
This too is an extremely important role as, once again, the surgeons involved in the operation do not have the time to do this themselves and require a manager to handle the proceedings.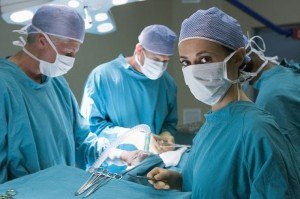 Employment
There are a number of different places in which a Perioperative nurse can be employed, but they all have very similar functions and purposes. As a Perioperative nurse you may be employed in:
Hospital surgical departments
Day-surgery units (also called ambulatory surgery)
Clinics
Physicians' offices
Whatever facility you are employed in you will be required to work in the:
Preoperative phases of surgery
Intraoperative phases of surgery, and
Postoperative phases of surgery
Employment is restricted to health care facilities where surgery is performed, meaning that your skills will only be in demand in certain instances. However you are required to have training as an RN to become a Perioperative nurse, so it is possible for you to find employment in any area where a standard RN is required.
Perioperative Nursing Requirements
There are a number of requirements and steps involved in becoming a Perioperative nurse. Firstly you need to get your Bachelor of Science in Nursing (BSN) degree and then pass your National Council Licensure Examination (NCLEX-RN). Once you have done this you can start working as a Registered Nurse. It is the important that you get experience working in critical care and in the emergency room, and take continuing education courses in areas like patient assessment, Intraoperative activities, discharge planning, emergency situations and sterilization. Once you have experience, take the Certified Nurse Operating Room (CNOR) certification exam through the Association of Perioperative Nurses (AORN). You will then be certified as a Perioperative nurse with the right to practice as one. The requirements are many and complex and it will take several years to meet them.
Personality Traits
There are a number of personality traits that you will need to have if you want to be a successful Perioperative nurse:
Professional level interpersonal skills
Professional level organizational
Professional level clinical skills
The ability to work calmly under pressure
The ability to be assertive
The ability to NOT take things personally
The ability to be strong minded
The ability to do lots of things at one time
Many of these trait are very similar to what you would need in an average RN setting, but the difference is that, in Perioperative nursing, these traits are called upon more frequently than in regular RN nursing as the everyday situations that you will be involved in will, generally speaking, be far more intense and severe than in a normal health care setting.
Educational Requirements
The educational requirements for this nursing specialty are very similar to many other nursing specialties. For one thing you will require an RN qualification. To earn this you need to attend an accredited RN program at an accredited school. The basic training that you will learn in this program will culminate in a degree that will make you eligible to write the RN exam, or NCLEX-RN. After that the facility that you work for may provide or pay for in-house training. This may mean that you will have t make a commitment to that facility once you have completed your Perioperative training, but this works in your favor as you will be guaranteed of employment once you complete the qualification. After you have the required experience, write the certification exam.
Licensure
To become a Certified Perioperative Nurse you first need an RN license. The process of getting licensure as an RN is as follows:
You will first need to complete an RN degree program. This will take several years. The program must be convened by an accredited school. To enter a program such as this you will need to have a high school diploma or GED as well as pass some basic tests.
Complete the general education courses in your undergraduate degree. This will make you eligible to apply for licensure.
Apply for licensure through your state board of nursing. The state board of nursing will let you know if you are eligible based on the transcript from your school.
Once your eligibility is confirmed apply to write the NCLEX-RN exam. This will license you.
How To Become A Perioperative Nurse
Training, Advancement And Other Qualifications
A Perioperative nurse who would like to advance their career can do so through additional education. With additional education you could be eligible to fill one of the following positions:
Operating room director
Budget, staffing and other business aspects of the operating room manager
Nurse anesthetist
Certified RN First Assistant
Clinical educator
Clinical researcher
There are plenty opportunities for advancement for an RN with a qualification in Perioperative nursing. The options listed above are not exhaustive. The number of opportunities that you have to advance your career really depends on how hard you are willing to work in order to achieve your educational goals and objectives. Nursing can be a very successful and fulfilling career in more ways than one.
Source An Accredited Education Program
The program that you enroll in to be a preoperative nurse must be accredited. If it is not accredited:
You will waste your time: you will have to complete another program that is accredited from scratch which will double the time that you spend studying.
You will waste your money: this is because you will effectively be paying for two programs instead of one.
The best place to look for an accredited Perioperative nurse program is on the website of your state board of nursing. This is a resource that you can be guaranteed will provide you with the best and most reliable information possible about how to go about earning your nurse anesthetist qualification in your particular state. The school itself should also be open about this information.
Earn Your Associate's Degree
Earning your associate's degree is a good starting point when becoming a Perioperative nurse, but ultimately you will need to hold a bachelor's degree at the very least if you are to be properly certified and licensed as practitioner a in this particular area of nursing specialization. Although it is possible to be an RN with just an associate's degree you, if at some point during your RN career decide that you want to specialize in Perioperative nursing, you will have to go back to school and complete your qualification so that you are an RN that holds a bachelor's degree in nursing. This will take anything between 2 and 4 years, depending on the level of education that you have before you enroll in the bachelor's degree program. Bridging courses are available to make things a little easier for you.
Obtain Your Licensure
Training to become a Perioperative nurse can be very hands-on. Consequently it is recommended that you access online training resources and guides in order to supplement your practical knowledge with some sort of theoretical backing. This will make passing the certification exam substantially easier than you may otherwise have found it to be. The only real licensure, per se, that you need to be a Perioperative nurse is your RN license. Certification is, however, similar to licensure and it is important that you do what is necessary to get your certification in this area of specialty easily.
Online/Distance Education Programs
According to http://www.ehow.com/how_6547679_become-perioperative-nurse.html you should do the following to become licensed:  "Access the Association of Perioperative Registered Nurses (AORN) Periop 101 online course for first-time licensees. The course monitors students in 23 modules. The instructor meets with each student for skills and hands-on guidance. After completing the online option, which is a new offering, students can attain their certification".  Online guidance can make achieving a qualification such as this far easier because:
You will be able to work in your own time.
You will not have to give up your current job in order to attend face to face lessons on the coursework.
You will be able to work from the comfort of your own home and control the environment so that it facilitates your studying.
Online training does not, however, suit everyone. You will require a high degree of self motivation and control. You will also miss out on valuable interactions and learning experiences with other students if you choose to study your theory work online.
Job Outlook
Employment for RNs in general is expected to grow over the next few years at a faster rate than any other industry. RNs with a specialization of some kind will be in high demand. More and more ailments and injuries are treatable through surgery. This, in addition to the many technological advances we have seen in this field, culminate to result in many more opportunities for nurses with experience and certification for the operating room. As jobs go, a career in the nursing profession in one that you can be sure will be stable and in which you will always be able t find employment. As a Perioperative nurse needs to have basic RN training, you will be able to work in just about any health setting that requires an RN as well as having the additional opportunity to work in the OR.
Earnings
The average RN earns about $59,257 to $71,714 a year. A nurse with a specialization, such as a Perioperative nurse, is able to earn well above the average salary of an RN. In fact, as a Perioperative nurse you can expect to earn about $62,415 to $74,664 with a median average of $68,473, which is about $3,000 more than a general duty RN makes. The salary that you earn can be affected by the number of years of experience that you have working as a Perioperative nurse expert:
Less than one year = $35,000-$49,263 a year
One to four years = $41,492-$62,301 a year
Five to nine years = $50,877-$71,373 a year
Ten to nineteen years = $55,864-$77,041 a year
Twenty years or more = $57,953-$79,912 a year
There are many nursing specialties open to you, but this is one of the better options to choose, especially as the in-house training structure involved will ensure that you have a place to work once you have finished your basic training. The salary that you will earn is well above average although it will start out fairly low at first when you do not have a lot of experience behind your name. However as you move forward and gain more and more knowledge in this specialty you will find that you will not only earn more money, but also more respect from your colleagues and peers in the health care field.