According to research done by Press Ganey Associates Inc., the nurse-client relationship is very important, as it sets the tone of the care experience. Nurses spend the most time with a patient; therefore it is imperative that they have a good relationship. This is important not only for the welfare of the patient, but also for the peace of mind of the family and the reputation of the hospital or medical institution.
The moral basis of the nursing profession is a commitment to personal integrity, which includes dedication in the nurse-client relationship. The relationship between the nurse and the client is critical to the welfare of the client, and therefore a crucial element of the nursing practice. This means that the number one duty of a nurse is to assess and monitor all aspects of their relationship with their clients.
To this end, the moral ethics required of nurses are expressed in both the Code of Ethics for Nurses (2001) and the Nursing's Social Policy Statement, 2nd Ed. (2003)
The American Nurses Association's Code Of Ethics For Nurses
According to the American Nurses Association's Code of Ethics for Nurses, the nurse shall:
Advocate for, promote and strive to protect the health, safety and rights of the patient.
Ensure that their primary commitment is to the patient, irrespective of whether that patient is an individual, a family, a community or a group.
Be responsible and accountable for their own individual nursing practice and determine the appropriate delegation of tasks consistent with his or her obligation to provide optimal patient care.
In all professional relationships, practice with respect and compassion for the inherent worth, uniqueness and dignity, of every individual, unrestricted by, considerations of person attributes, economic or social status, or the nature of health problems.
Owe the same duties to self as to others, including the responsibility to maintain competence, preserve integrity and safety, and to continue personal and professional growth.
When a survey was done to find out what nurses thought and where they were experiencing problems with the nurse-client relationship, it was found that many of them had problems in establishing the boundaries, had some moral issues with various aspects and sometimes had a conflict between their personal values and established professional ethical norms. Their concerns were discussed and deliberated upon, and the opinions of respected peers were taken into consideration.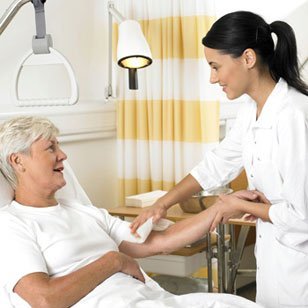 It was found that shared deliberation is integral to providing direction for morally justifiable action and preserving integrity in the nurse-client relationship. It serves to guard against the inappropriate use of power, and will assist in the development of the moral consciousness of the work group.
Nurses need to develop their own ability to self-regulate their personal responses to disclosures made by clients, their lifestyles, political ideologies, personal qualities, the nature of their illness, or any other characteristics. It is not the job of the nurse to judge, but to provide equitable care to all, with the same dedication, compassion and respect.
Intimacy
The very nature of nursing and the nurse-client relationship makes intimacy rather unavoidable, and this can be used for the good of the client, to promote health, with their collaboration, and should not be abused in any way. The intimacy in this type of relationship is motivated by therapeutic goals and of limited duration, so it is important that the nurse doe not get caught up in any other type of relationship with their patient. Once the nursing goal has been achieved, the relationship either ceases and the nurse moves on to the next patient, or another goal is set; either way, nurses must be careful not to exploit this relationship, or allow themselves to be exploited.
Trust
The nurse-client relationship is based on trust, and it is incumbent upon the nurse to respect and protect the client's right to privacy. This means that no information of a personal and confidential nature may be disclosed to a third party. The nurse becomes the confidante, mentor and sage of their client, who relies on them to provide the best in care, and assist them to make decisions within the context of the therapeutic relationship, where they should be free to air all emotions, thoughts and concerns. Any information that is revealed to a nurse in the context of the nurse-client relationship must always be treated as an obligation of confidentiality. Nurses must honor this confidentiality, unless there are issues regarding the safety of the client or others, in which case the legal duty to report supersedes any confidentiality, although the client must be made aware of the limits of confidentiality when it comes to such cases.
Suggesting or soliciting gifts or influencing clients to gain access to financial assets is exploitation and never appropriate. It behooves the ethical nurse to carefully analyze anything out of the ordinary in the nurse-client relationship to ensure that there is no abuse of the relationship by either party. It is unethical for a nurse to exercise control over a client via direct coercion or manipulation, and a transgression of the client's right to self-determination. By the same token, it is non-therapeutic for nurses to allow themselves to be manipulated by clients in any manner whatsoever, and they should never collude with a client planning an immoral or illegal act.
Part of the nurse-client relationship is that the nurse must protect the client from incompetent or unethical practices at all times. This may be difficult at times as nurses and other providers may differ often amongst themselves as to preferred methods of practice. Healthcare providers must collaborate in the best interest of the client at all times, and the nurse will have to consider whether a disagreement about care poses a risk to the client or whether it is just a difference in practice patterns that are the prerogative of other providers.
It is incumbent upon nurses to ensure that they are well-informed and up to date with the guidelines provided by the profession to assist in ethical decision-making. It is also incumbent on the nursing profession to assume a leadership role in ensuring the application of ethical standards to clinical situations, thereby giving all caregivers, who often have difficulty in determining the ethically sound course of action a platform from which to work.
How To Foster Therapeutic Nurse-Client Relationships
A therapeutic nurse-client relationship is defined as a relationship which is based on mutual respect and trust, and it is a helping relationship. This kind of relationship consists of being sensitive to self and others, the nurturing of hope and faith, and utilizing your knowledge and skill to assist with the indulgence of not only your patient's physical needs, but also their spiritual and emotional ones.
This type of caring nurse-client relationship develops when the nurse and patient come together in the moment, fostering a relationship which results in harmony and healing. Effective communication, verbal and non-verbal, is an integral part of the nurse-client interaction, as is caring for your client or patient in a manner that enables them to take an active part in their recovery.
Here are some tips on how to foster such a nurse-client relationship:
1. The Introduction
It is important that you introduce yourself to your client upon first meeting; use their name and shake their hand to establish trust and respect.
2. Privacy
It is important that you afford your patient their privacy when necessary, such as when providing treatment. Ensure that their basic needs, such as relieving pain and providing other sources of comfort are met.
3. Active Listening
Active listening means ensuring that your client knows that you understand their concerns by repeating what they verbalized, e.g. "Mr. Jones, you mentioned that you were not sleeping too well, would you like me to get doctor to prescribe something for you?" Be genuine in your dealing with your patients and they will come to trust you more and be more forthcoming and co-operative, which will aid their recovery.
4. Eye Contact
Too much eye contact can be intimidating, but be sure to make eye contact every now and again, and smile and nod your head when conversing with your client, so that they feel that you are listening to them. Speak calmly and slowly and use terms that the patient can understand, in such a way that the message of care is communicated in everything you do.
5. Professional Boundaries
Touch can be very therapeutic, and some patients can perk up when given a hug, a touch of encouragement on the shoulder or when a nurse holds their hand when they are feeling scared. Other patients prefer no touch at all, or it may be against their culture, so be respectful of their wishes, and always maintain the professional boundaries, no matter what.
At the end of the day, the nurse-client relationship should be one that promotes safe, compassionate, and effective care, and empowers the patient to take an active role in his or her own healing by creating a space wherein they feel safe, positive, cared for and supported.