If you want to be an LPN you will have to pass the NCLEX PN exam. This is something that cannot be avoided, but before you start panicking, remember that this is something that you should be able to manage quite easily if you have done everything that is required of you up until now. This article will provide you with the necessary skills and tips for getting through the NCLEX PN easily.
How to Apply and Register for the NCLEX PN Exam
Something that seems to stump a lot of students is how exactly they should apply and then register for the NCLEX PN exam. The information that you need and the steps that you should follow are outlined in detail below.
How to Apply
Firstly you will of course need to apply. To do so you must follow these easy steps:
Firstly you need to get an application form for licensure. These will differ from state to state so you need to get the one for your specific state's board of nursing. These can be found online at the website of your state's board of nursing.
Once you have the form, make sure that you are aware of all of the eligibility requirements for applications that are required in your state.
If you meet the requirements, fill in the application form. When you do this you are acknowledging that your state board of nursing has the right to confirm or deny your suitability for licensure.
These applications can be made in writing, via email as well as over the phone.
Fill out the NCLEX-PN Examination Candidate Bulletin which will arrive in the mail shortly after your application. This will require you to provide detailed information about your qualifications. Basically the board wants to ensure that you are in fact suitably eligible to take the exam.
How to Register
Once you have done all of the above it is time to register for the exam. There are two main ways to register:
By phone
By completing a form that you mail in
Completion of registration does not automatically guarantee that you will be able to write the exam. Your credentials will still have to be confirmed by your state board. After this the Authorization to Take the Test (ATT) will arrive in the mail. You will need to complete this. Once it is complete sign up for an examination date.
Preparing for and Passing the Exam
The first thing that you need to do when you start preparing for your exam is to make sure that you know what is going to be on the exam. It is a multiple choice test that will cover the work that you have done in nursing school. The content of the exam is easy enough to find out about as it is online and there are many practice exam papers available for you to make use of that have examples of the kinds of questions that you will have to deal with. Some of the topics that will be covered on the NCLEX PN examination include:
Pharmacology
Chemistry
Human anatomy
Medication administration
There will be no questions on things that are not in your textbook or in your notes, so make an effort to review all of these before you write the exam. This also means that you need to make sure that you do in fact have all of the textbooks and notes that you need in order to pass the examination. These are things you should have acquired when you started nursing school.
Get a copy of an old exam paper, or look around for example exam papers to study from. This kind of practice will prepare you for the format of the exam as well as for the content. It will also help you to increase your confidence levels and thereby your chances of succeeding on the exam.
If you have contact with other students who will also write the NCLEX PN examination, form a study group with them. When you work together, you will each contribute to each other's understanding about the topics.
There are a number of review courses available to help students prepare for this exam. If it is possible you should consider taking one of these courses as this will improve your chances of passing.
Calculating a Passing Grade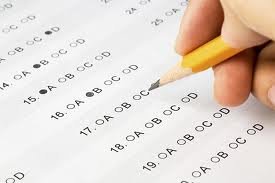 Like with all exams there is a minimum that you have to do in order to receive a passing grade. Of course it is far better to get as high a grade as possible – aiming for the bare minimum is not a trait that employers like to see in their nurses. However it is quite useful to know what the pass requirements are so that you can have something to aim for and surpass.
Let's look first at the number of questions there will be:
There can be anything from 85 to 205 questions on the exam
You need to answer at least 85 questions in five hours. If you answer less than this you will automatically fail the exam.
There is no connection between the number of questions you answer and your chances of passing or failing.
From this point out it becomes very difficult to calculate your score. You need to demonstrate a competency level of 95% or above. This is something that you will most likely not be able to calculate yourself as the computer system used to do this is very complex. However if the computer tells you that you have completed the test before you reach the minimum number of questions then you can rest safe in the knowledge that you probably managed to easily demonstrate competence of 95%.
However, the standards used are complex and you cannot know whether or not you have met those complex standards until your results are released. This is something that you are simply going to have to accept. As a result it is suggested that you avoid trying to guess your score once you have written the test. Your guess will probably be way out and all you will be doing is making yourself frustrated. Just be patient and wait for the results to be released to you. The results will be accurate when you receive them, so don't second guess them.
Finding out Your Exam Score
Once you have written the NCLEX PN you will want and need to find out what your actual exam score was. Like mentioned above you should not try to figure this out for yourself as it is counter-productive and you are unlikely to get the right answer.
The first very important tip you need to keep in mind her is the following: do not attempt to contact Pearson Vue (the body that runs the examination) or the state board of nursing, or anyone else for that matter for your results. They will send the results to you. Patience is an important part of being a nurse and this is a good time to start demonstrating it. The results will always be sent via post, so whenever you fill out forms for exam applications and so on you need to make sure that you include your accurate address. Check that everyone concerned knows what your address is. Sometimes the results are sent to you within three days of writing the exam. You may have heard of friends who had this luck. Don't assume that this will be the case for you. Expect the results to take at least a week to get to you before you start wondering where they are.
Have a look at the report that you are sent. The report will tell you how many questions you answered before your exam was ended. The more questions you answered the closer you got to the desired standard that the computer wanted you to reach. This report will tell you whether you passed or you failed. If you passed then you have nothing to worry about. If you didn't, you will need to take some time to analyze where you went wrong so that you know what areas to focus on when you retake the test. The report you get will give you a very comprehensive idea about what areas you should work on for your next attempt at the exam.
You are now fully equipped to do a good job on your NCLEX PN examination. If you think clearly and keep the information contained above in your mind you will find that you will have the confidence and skills needed to get through the exam without any hiccups. Examination preparation is important, but do not forget that you also need to work hard form the beginning of your LPN program so that you have a thorough and working knowledge of the coursework long before intensive exam studying even begins. If you work hard and consistently, the NCLEX PN exam will not be the nightmare you think it is.