The History Of LPNs In The Army
With the high influx of casualties during the First World War, it became apparent that there was a shortage of nurses. The Army School of Nursing had to employ licensed nurses who were brave enough to work in what was one of the most stressful working environments of the time. Nurses started being licensed during the early 1900s already and it was a great help to the nursing sector that the army started a nursing school which was funded to train licensed nurses so that they could enlist in the services of the army. Other nursing schools were also opened to ensure that there were enough nurses available to tend to the sick and wounded during the difficulties of the war.
The Second World War brought with it a large demand for nurses again; LPNs were employed to take care of the basic medical needs of the injured and sick such as taking temperatures and monitoring vital signs. This, therefore, allowed the RNs to tend to more patients since their duties were reduced.
How Does An LPN Fit Into The Army?
Once you have completed your LPN training, a whole new level of opportunity for growth arises. As an LPN in the army, you will quickly learn that your duties do not simply end at tending to wounds, but also include uplifting the spirits of the injured soldiers. These soldiers endure great hardships, and this is where you, as an LPN, become a confidant and motivator as well as filling the role as a regular LPN.
You will have to endure special military training, and this will allow you to relate to what the soldiers are experiencing.
It is, thus, understandable that many LPNs drop out of service, thereby creating a demand for LPNs in the army. As with any person looking to join the army, you will need to think this through carefully and be absolutely sure that this is the right decision for you.
Many nurses in the army also doubles up as OBGYN or assistants to surgeons. With circumstances in a war situation, it is difficult to ensure that the correct channels are being followed, and you should be prepared to perform whichever duty is required, especially during a shortfall.
Rewards Of Being An LPN In The Army
Apart from the knowledge that the patients are cared for in times of need, the LPN can look forward to a bright career path. The amount of time taken to study is relatively short compared to other courses for other careers in the health environment, and you can get through the course quite quickly; work while you study, and stand a good chance of being employed soon after graduation. The demand for LPNs is steady because of the chances for advancement from this qualification. Once an LPN has been promoted to a different station, there is a room open for another LPN to fill the gap.
Challenges You My Face
Apart from the everyday challenges that LPNs face, as an LPN in the army, you will have to be comfortable with the fact that you are part of a military structure. This means that you will have to follow the orders of the commanding officers who are in charge of all of the soldiers. The risk of breaking rank often interferes with the opportunity to save a life or to do a job properly. At the same time, you will have to adapt to the circumstances as they arise, as well as all the changes in health care systems, code of ethics within the military and the health care system. You must also be ready, constantly, for deployment.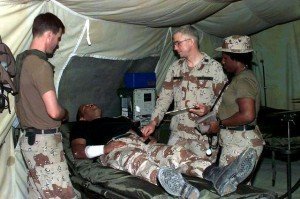 With nursing shortages, you will have to help where you can while still falling within your expertise and without breaking rank. For this reason, if you are an LPN who wishes to join the army, you should think long and hard about whether you will be able to handle the increased stresses that come with the role within the military before signing up. You must be completely medically and emotionally sound, because the lack of emotional support and shortage in medical staff will not make it easy for you and your fellow LPNs in the army. Having said all that, it is important to note that whether you are an LPN or not, nothing comes easy. However, this could be an extremely rewarding experience, as you will be tending to men and women who put their lives at risk for their country, and in a way, you may be doing the same.
Risks To Be Aware Of
There may not be a war going on at all times, but the chance of a nurse being called to serve in a war zone is not uncommon. Because of the higher mortality rate and the amount of injuries that need to be tended to, the risk of infection and contracting contagious diseases are much greater.
Despite what many think about the situation, an LPN is not deployed to the actual attack zone during wars. The injured are transported off the battlefield to field hospitals, and from there they are transferred to fixed hospitals once they are in a stable enough condition. Yourself and other health care workers and professionals will be stationed either at the fixed hospital or the field hospital to tend to the dying and wounded. LPN army training will prepare you for whatever you will be exposed to.
How To Become An LPN In The Army
For this position, you will need to complete the normal LPN program and obtain your certificate. After that, you will have to go through the MOS 68W, which is the state-administered examination. This exam is absolutely necessary in order to ensure that you are fully prepared for what may lie ahead as well as have additional skills which may not have to be used in a hospital setting, like an emergency medical evacuation, or taking care of patient in a field hospital that may not be as comfortable and well-lit as a fixed hospital, for example. These skills could prove to be life-saving when you find yourself in such a situation.
What the Course Entails
As previously mentioned, LPNs in the army get there by completing a 10-week long course in combat training, which is followed by 16 weeks of army LPN training. This training will cover the following:
Patient-care techniques
Emergency medical techniques
Methods of sterilizing surgical equipment
Plaster-casting techniques
Differences Between Regular LPNs And LPNs In The Army
Being an LPN in a civilian environment brings with it many stresses, and most of these will also be experienced when working in the military. But clearly there are also many differences between these two occupations, and you should be aware of these when considering the transition.
Nurses in civilian situations receive emotional support at work from their colleagues as well as from their family and friends at home, whereas LPNs in the army work in remote areas where they do not have their loved ones to count on. In addition, they must provide emotional support to the injured soldiers without receiving that support from anyone else.
Shortages in the nursing system make the jobs of LPNs in the hospital difficult, but the severe shortage of physicians and nurses in the army make the job stresses much more intense.
Nurses in the army are found to have a 34% higher risk of burning out due to work stress and low job satisfaction than their civilian counterparts.
LPNs in the civilian environment have the backup of physicians and senior staff who supervise them, whereas with the remote and unsterilized environment of the battlefield, it is up to even the most junior LPN to act autonomously in the best interest of their patients and do everything they can to save that person's life, even if it lies outside their scope of practice and experience.
If an LPN decides to leave the employ of the hospital they are working in, they may find it easy enough to adapt to another facility. The LPN leaving the military and joining the staff of a hospital may find it difficult to act within the formal and very strict structure which a hospital demands. They now have to adapt to only performing those duties that have been assigned to them by an RN or a doctor, as opposed to being ready to fulfill any task when in the army.