If you have been considering becoming a Licensed Practical Nurse then you will want to know everything you can about the LPN working conditions before you commit to this career. According to statistics released by the US Bureau of Labor Statistics ion their Occupational Outlook Handbook, 2012-13 Edition, there were approximately 752,300 posts held by licensed vocational/practical nurses in the U.S. last year. Of these, 29% worked in nursing facilities, 15% in general medical and surgical hospitals, 12 % in physician's offices, 9% in home health care and 5% in community facilities for the elderly.
The US Bureau of Labor Statistics also projects that the job outlook for LPN/LVNs is set to grow by a huge 21% in the 2010 to 2020 decade. This is mainly due to the increased need for long-term care for elderly baby boomers that are now living longer due to the innovations in modern medicine. Unfortunately although people are living longer these days, they are also in need of medical care of one kind or another for far longer. There is a shortage of qualified nursing professionals and unfortunately also insufficient capacity to train enough registered nurses to supply demand, hence the need for licensed practical nurses to pick up the slack.
Overview Of The LPN/LVN Industry
Licensed practical nurses provide basic nursing care under the supervision of registered nurses and the direction of medical practitioners. Whilst they work under these professionals, licensed practical nurses do make various nursing judgments and are responsible for their own actions.
The majority of LPNs are women and many of them do not work full-time but either work part-time through nursing agencies, which provide jobs and oversee the LPN working conditions of those employed by them or work part-time whilst raising their own families. There are more and more men joining this profession though, which is also a good thing as the job of a licensed practical nurse is not an easy one and requires a lot of strength and stamina.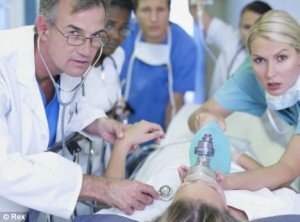 The demand for licensed practical nurses is also increasing due to many of the older staff going on pension, and due to many LPNs now doing bridging programs or some other form of continuing education in order to move up in the ranks of the nursing profession. Demand is also growing in communities with larger acute care hospitals and more extended care and long-term care facilities. This is because many of the procedures that could once only be done in hospitals are now being performed outside of hospitals, creating a demand in other settings such as outpatient care centers.
Industry Sectors And Types of Employers
Licensed practical nurses work in many different types of institutions, including:
Community Health Centers
Industrial Settings
Hospitals
Private Homes
Long-Term Care Facilities:
Rehabilitation And Therapeutic Facilities
Childcare Centers
Doctors' Offices
Residential and Day Camps
Schools
Community Settings for the Developmentally-Delayed
Institutions of Learning
Many Licensed Practical Nurses also work in the private home-care industry, caring for the elderly or the ill in their own homes. These LPNs are irreplaceable as they not only take care of the medical needs of the patient/client but also assist them with various personal tasks. Many really enjoy the LPN working conditions offered by private employers and stay in their positions for along time, generally fostering quite close relationships with their clients.
Work Schedules
Whilst approximately three quarters of LPNs work full-time in hospitals, physicians' offices, nursing homes and extended care facilities, and private homes, many of them prefer the LPN working conditions offered by part-time employment and therefore prefer to work part-time or on variable schedules. These LPNs work when the need for medical care is high, or work "on call" which means that they only get called in when needed.
Most full-time LPNs work a 40-hour week, and their schedule can include working nights, weekends and holidays as patient-care is a 24/7 job. At times they will be required to work longer than an eight-hour shift.
Wages And Salaries
Obviously, along with hours worked, duties and LPN working conditions, what one will earn as a Licensed Practical Nurse is important. This can depend on many factors, including employer, experience, sector of the industry and location. Larger institutions such as metropolitan hospitals tend to pay more than small ones such as nursing homes and community clinics, but some employers offer high salaries due to the fact that they are in what are perceived to be remote locations.
The pay for LPNs working in the private sector such as in private homes can also differ greatly, and sometimes the actual pay is only part of the whole package and the other incentives and benefits such the use of a car or live-in positions which mean no rental. Other incentives or perks can include dental and extended health benefits.
In general the wages of a LPN can range between $30,000 and $55,000 per annum and part-time LPNs can earn between $19 and $30 an hour.
LPN Working Conditions And Environment
As with any other type of nursing, licensed practical nurses will spend most of their time on their feet, and will do a lot of walking during their shift so should ensure that they wear comfortable shoes. They will also spend a significant amount of the time stooping, bending, and assisting with the positioning of patients in their beds or on various types of hospital equipment, which could include some lifting.
Depending on where they are working, LPNs and LVNs will often be required to wear scrubs. If they are working in a private home or a physician's office they will generally wear a white uniform like a nurse.
LPN working conditions
LPNs are responsible for the health and safety of their patients.
They may be put into conflict situations with patients or family members of patients or clients.
Depending on the setting, LPNs may have a variety of nursing care responsibilities and may have to collaborate with psychiatric nurses, physicians, registered nurses, physiotherapists, certified nursing assistants, and/or various other health care professionals.
LPNs are substantially responsible for outcomes and results; good care means faster healing times.
They are often exposed to blood and other body fluids, anaesthetic gases, sharps, and other health care occupational hazards.
Some of the other hazards to which an LPN may be exposed are hospital grade cleaning solutions, gases like alcohol and oxygen, flammable solutions, latex and other industrial chemicals.
As an LPN you could also be exposed to infectious diseases or radiation.
LPNs are constantly in contact with patients.
They work very closely with others, often in a tight-knit team.
LPNs will always work indoors.
LPNs may be required to wear safety attire such as gloves and masks or goggles at times.
They need to be very agile as they may be required to get into some awkward positions at times in order to help or move a patient.
LPNs may sometimes be exposed to contaminants.
They may be exposed to distracting noise levels and loud sounds from medical equipment or cleaning equipment.
The job can be very stressful, noisy and busy, so it is important to get sufficient sleep and have something that can de-stress one after work, such as a hobby or sport.
Although the general LPN working conditions are very enjoyable and not dangerous if all of the rules governing chemicals are adhered to, they can be made rather unpleasant by having to deal with patients who are angry, confused and unstable and who may become irrational and combative at times.
LPN working conditions also differ a bit according to the specialty areas which the LPN/LVN works. Although the legislated scope of practice for LPNs has not changed much over the past few years, the range of competencies that are being employed by them has expanded. New competencies include mental health, long-term care, and community and pharmacology studies. This means that LPNs who have added a specialty to their qualifications are taking on increased responsibilities and this means that they are providing better patient outcomes and there is improved utilization of nursing staff.
There are more and more jobs opening up for Licensed Practical Nurses in specialty areas such as in emergency and pediatric wards, and operating theatres, long-term care facilities, hospices, and various other medical institutions and specialty areas. Added to this is the fact that LPNs who have completed an immunization certification course and the leadership post certificate course will have many more and far better job prospects.
In general, medical facilities realize the stressful conditions under which their nursing staff perform and have gone to great lengths in order to make their days easier by ensuring that they employ sufficient staff. Ensuring that the whole team of medical staff, which includes the doctors, registered nurses, certified nursing assistants and the licensed practical nurse work well together as a cohesive unit, also greatly improves the LPN working conditions.