No, it's not a competition between Licensed Practical Nurses (LPN) and Registered Nurses (RN); this is just to decipher the differences between the two. On the surface of things, they may seem very similar, hard to distinguish even, which is why there's sometimes confusion between the two.
In the United States of America, each state has a nurse practice act which will give the clinical terms as to their difference as it applies to that individual state as well as highlight their respective LPN scope of practices. Although they have very similar duties and responsibilities, Registered Nurses carry more authority.
With the current nursing shortage, this general topic has been a pretty hot one of late which has consequently inspired some extra nursing programs and LPN jobs to both expand general awareness and help ease the dearth in some way. By widening the field somewhat and thus granting more opportunities, the chance of increasing the resources of LPN's does improve, and additionally there's an added encouragement or incentive for RN's to pursue further or advanced training.
Effectively, what the shortage has done is to highlight not only the need for nurses but, more importantly, the medical fraternities' dependence on the care giver. Subsequently, the nursing field is expanding (and has expanded dramatically in recent years) in all sorts of ways as the role of the primary medical care giver seemingly evolves to cope with new challenges of a growing industry and a struggling health care system.
The medical fraternity has taken many strides forward in the twenty first century, not just in terms of recognizing and incorporating previously fringe type medical studies and practices, but also in rethinking or reapplying themselves to certain associated ideals and concepts – a primary example is the field of medicine's relation to the previously neglected field of nutrition and subsequently its intrinsic link to healing. However, one of the fundamental areas of growth is the general regard and dependence on the nursing staff, as well as all other associated jobs like technicians and paramedics. So, with this revitalized focus and attention, nursing has seemingly been thrust into the limelight in a manner of speaking, with many more people considering a career in the field, or at least seeing nursing as a natural entrance to the field (and study) of medicine.
So then, once the interest of the individual is grasped they then encounter the licensed practical nurse and registered nurse debate; and which is the more viable for them? Of course the whole "versus" thing is no indication of any competition, though rather serves to distinguish between the two; one is not 'better' than the other, in a clinical sense; either one serves and performs a crucial and specific role as both remain vital spokes in the medical wheel.
So, what are the fundamental differences between an LPN and an RN?
In essence the LPN is the base level or entry level nursing program. Crucially though, studying this program does not earn you a degree but rather, once your studies are complete, and you've passed the NCLEX-PN exam, you'll be awarded your nursing license.
The three main areas where LPN's and RN's differ are:
Salary
Scope of practice
Career progress
The salary of a registered nurse is much greater due to their wider scope of expertise and qualifications which also directly impacts the potential for advancement in their careers. The LPN, as mentioned, is the entry level nurse, thus their level of duties is much more restricted in the care giving sense. Patient care is of course obligatory with all nursing training, and with LPN's it's no different, but beyond that there's only a limited amount that they're allowed or tasked to do. They may even administer some medications, but when it comes to things like pushing in IV's, hanging blood or chemo, those duties fall to the RN who is also generally more concerned with the general patient status. The general patient status means that the Registered Nurse's concern is more comprehensive – while the LPN's is more singular and task orientated – the RN must be more concerned about the patient's general condition. Issues like the assessment of a patient and the initial diagnosis is left to the registered nurse who then formulates a care plan for the patient's stay and then initiates the commencement of that plan. Usually this involves designating a bed and escorting them there while correlating the patient's data into the respective system. Within this system, the RN can then delegate certain duties to the LPN, but only according to their scope of practice.
Understanding the Differences in the LPN vs RN Scope of Practice
The LPN is typically qualified to care for the sick, elderly and/or wounded with a number of medical duties assigned to them as well. This may include administering medication such as pain killers and antibiotics as well as IV's, though the latter duties are always prepared and supervised over by a registered nurse. Medical duties for the LPN can also differ from state to state and for the full or comprehensive guide to their scope of practice, one should inquire and refer to the state's nursing act.
The RN's scope of practice includes all the duties of an LPN. Of course they hold a four year BSE degree and are most often found in positions carrying more authority, as well as supervising LPN's and delegating their duties. Registered Nurses often also specialize in a particular field of medicine. Here are some of the fields available to qualified registered nurses:
pediatrics
community health
surgery
psychiatry
occupational health
oncology
emergency
obstetrics
rehabilitation
All fields require their own set of specialized skills, for example, those nurses who aid in surgery need an in-depth knowledge of the human anatomy as well as surgical instruments and procedures, trained to clean wounds recently operated on and 'close' patients up, though in some cases, doctors prefer to administer things like stitching themselves, particularly if it forms part of their expertise, the plastic surgeon comes to mind as an example. In other cases still, some experienced nurses, or those looking to advance their careers with serious long term goals, like becoming a surgeon, can often be called upon to either give advice or in most cases offer their vantage point in the operating theater. Such cases are inevitably at the discretion of the practicing physician, many of which prefer to work with the same people (nurses and support staff) whilst operating, as they form part of the operating team. LPN's though would rarely ever find themselves in this environment.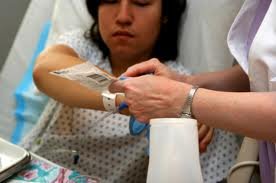 Some RN's may decide to study further and become an NP – Nurse Practitioner which requires a master's degree with specialized certificates in Pediatrics and Anesthesia, to name a couple– in which case some of their duties will include:
complete annual patient physicals
counseling patients (which sometimes includes their families as well)
provide immunizations
monitoring patients with critical conditions
completing certain medical procedures like defibrillation
The Educational Requirements of an LPN and RN
The typical duration of an LPN program is a year (full time) while the Registered Nurse may take an additional two to three years of study. The RN will then earn either a Bachelor of Science Degree in Nursing or an Associate's Degree in Nursing. As with most BSE Degrees, the duration is about four years, while the Associate's Degree takes around two years.
Prior requirements to taking on this course are a high school diploma and in some states, institutions require you to pass the National League for Nursing Exam before they accept you. Whilst the RN program is a full time course with fixed daytime study hours, the LPN program is much more flexible allowing for part time and night classes. One option that can be explored for those looking to study to become a registered nurse, is to (in some instances where it is allowed) take the NCLEX-PN (LPN) exam and, passing that, can then gain experience working as an LPN while still studying to be an RN. Once studies are complete, all aspiring RN's are required to pass the NCLEX-RN exam to earn their degree and license.
All the training that an LPN needs will come from the program itself which will include supervised on-site patient care. In many cases aspiring nurses are encouraged to conduct a job shadow of a practicing Licensed Practical Nurse or Vocational Nurse to gain a better understanding of their roles and to prepare them for what's to come.
The general curriculum for a Licensed Practical Nurse:
Basic nursing
Anatomy and Physiology, including terminology
Intro course to Pharmacology
First Aid
IV Therapy
Diet and Nutrition
A variety of types of patient care, like geriatrics and pediatrics
Of course all these fields and many more are covered in the RN program. Many bridging courses are offered for those looking to transition from an LPN to an RN once they've gained some valuable experience. Typically that course would involve much clinical work as well as additional courses where the LPN would learn things like the comprehensive patient assessment and formulating patient care, among many other things.
The Earnings of the LPN and RN
Most aspiring nurses tend to look at, like all other professions, the earnings, and in this case the LPN vs RN salary debate can be quite substantial and a vital determining factor in their career decision. In many cases, the entry level Registered Nurse can earn as much as double that of an entry level licensed practical nurse. The annual salary for an RN can range between the $55 000 – $60 000 mark while the annual median LPN salary is about $40 000. As mentioned before, the possibility for progress and advancement for an RN is much greater than an LPN, thus many nurses progress to supervisor or managerial positions while others look to pursue an avenue in education and can even become professors in Nursing at a college or University. The annual median salary for such positions are typically in the $70 000 – $90 000 range.
The issue with LPN's is their limited source of expertise and somewhat narrowed scope of practice, thus even with a considerable amount of experience including some advanced responsibilities and leadership positions/roles, the LPN will rarely ever earn more than around $55 000, thus further study and usually the bridging course to become an RN is such a common practice.
Therefore, with the many inquiries about the differences between the LPN an RN beyond just their salaries, it's easy to see that with their extra duties and higher leadership roles, the registered nurse is the most qualified of the two.
Work associations
The LPN and RN will inevitably work side by side, so their work environment will be pretty much the same with medical facilities in need of both. Of course the RN's have a wider range of potential placement facilities, whereas the LPN will most likely be employed by nursing care facilities, or hospitals. RN's can be found in the following locations:
home health care services
nursing care facilities
employment services
hospitals
Without a doubt though, the majority of registered nurses are employed by physician offices.
The Right Temperament
The role of any form of nurse requires a person of a particular type or temperament, undoubtedly a people's person, though not in the conventional sense because one needs to be a care giver, something that does not come naturally to many. There are not only a great number of responsibilities on the shoulders of nurses, in terms of admin work , but the central and most important aspect of the job is the patient care – in other words the inevitable responsibility for human life. Of course in addition to all this are the inevitable stresses involved in the job and the likelihood of a few chaotic days well within the job description.
The expectations of the Registered Nurse are of course much higher than that of the LPN due to their greater number of medical responsibilities and of course higher qualifications.
Finding employment then as a registered nurse will depend on several things; location, not just the city, area and hospital but also the state – some places have a greater demand for nurses than others. Specialty is another important issue; many places require a nurse with specified skills – not only does it illustrate your commitment to a field but also makes your resume and application more prominent above others. Some specified nurses are a rare and treasured commodity and this also provides great potential in the way of a suitable salary.
The Fundamental Differences
Some would say that LPN and RN is just different terms for effectively the same job (but that can be due to confusion because LPN's are referred to, in some parts, as RPN's – registered practical nurses), but whereas the registered nurse can do (and must be obliged to do) all the same duties required of a licensed practical nurse, the LPN cannot by law do everything the RN is capable of doing. So, to reiterate, the RN is the more advanced nurse in terms of responsibilities, salary and qualifications. In most cases the LPN works with, as well as under, the RN who can typically designate certain tasks which the LPN would need to enact, though (in the RN's case) always with the big picture (patient) in mind. Both will of course deal in patient care, but the RN is responsible for the initial assessment and subsequent patient care plan as well as other specified medical procedures.
You'll often hear that doctors are not the healers of patients, nurses are; the doctors merely diagnose and treat diseases and illness, but it's the nurses – the care givers – who provide that natural and integral human touch that inspires healing. So in this growing and evolving industry, with many new expanding medical fields (as doctors and patients alike look to further explore certain niche areas of study) and a contrastingly struggling health care sector, the role of the nurse has evolved along with it all. Within this there has developed the need for further helping hands in the care giver arena which has given rise to the licensed practical nurse – a role almost designed to allow for more people to have access to the medical fraternity. It has also opened up the door for those looking to pursue home nursing and health care, perhaps to care for an ill or frail family member, though even this would require an RN's approval for changes to health care plans – further highlighting the more comprehensive role the RN plays than that of an LPN.
As the government looks to aid and rectify the health care sector, many job opportunities have opened up across the board with nursing staff at the forefront.