Registering for the NCLEX-PN Examination
If you want to write the LPN exam then you will have to of course first register for this examination. There is no other way for you to write it. Registering is essential and is the first step in ensuring that you are a properly qualified LPN nurse. There are a few steps to follow and a few things to keep in mind when it comes to completing this registration process and it is in your best interests to follow the guidelines below in order to help you.
The first step that you will have to take is in the form of applying for a nursing license from your state board of nursing. To do this you will have to type the name of your state and the phrase "state board of nursing" into your search engine. You will then be taken to a site that will help you find out where and how to register in your state. There are different rules in every state which is why you must contact YOUR state's state board of nursing.
The next thing that you will need to do is to go to http://pearsonvue.com/. This is the website for Pearson Vue. Pearson Vue is the company that administers the NCLEX-PN examination so you will also need to apply with them if you wish to write the exam. On the website there will be directions that you can follow to tell you what to do next and what forms need to be filled in if you want to make sure to be properly registered for the exam. You will also have to pay $300 which can be done by credit card on the site.
If you do not want to register online you can also register via ordinary mail. To do this you will still need to go to the Pearson Vue website. Once you are on the website you will have to download the registration form and also print it out. Once you have done that you will need to very carefully fill the form in. When you post it you must include the $200 in the form of a certified check, cashier's check, or money order. If you do not pay you will not be registered.
You can also register for the examination by phone. Once you are on the website you will have to download the registration form and also print it out. Once you have done that you will need to very carefully fill the form in. You can then call 1-866-496-2539 which will get you through to a customer representative who will ask you for all of the answers that you gave on your form, so write them down first to have them ready and save time.
LPN Exam Requirements and Considerations
There are a number of very basic requirements that you will need to have if you want to write the LPN test. When planning to write any test or exam there are always requirements that you will have to adhere to. The test that is offered by Pearson Vue is no different and LPN nurses will have to meet a number of different requirements if they wish to pass. There are also some other considerations that you should keep in mind when you are preparing to write the examination.
Educational requirements: To become an LPN you will need to have completed and LPN program that is accredited by your state's board of nursing.
Sign up requirements: All of the sign up requirements that you will need to fulfil were mentioned above, so pay close attention to them.
Taking the test: There are 205 questions that you will have five hours to answer. They are multiple choice. You will have to answer 85 of these questions correctly in order to pass.
Testing areas: In the test you will be tested on the four areas of creating a safe and efficient care environment, promoting and maintaining health, psychosocial integrity, and physiological integrity.
LPN Entrance Test Practice
One of the best things that you can do if you want to do well when you write the LPN exam is to practice the test before hand. This means that you will need to some LPN entrance test practice. If you want to find some example questions and so on, all you need to do is to go online and type "LPN test preparations" or "LPN test" into your search engine and a lot of information will come up. This is the link to a very good practice test site that should do well in getting you started: caring4you.net/lpnnclex.html.
Helpful Study Tips for Studying and Preparing for the NCLEX-PN Examination
Here are a number of study tips that may help you to get through your examination. These tips can be applied to all nursing exams that you ever write. The first step to being successful in an exam is being prepared for that examination in the first place. Pay close attention to these ideas on how to study and thereby be properly prepared, and you should have no problems at all when it comes to writing the test.
There will usually be a suggested study plan that you are encouraged to follow in your LPN program. When it comes to the LPN exam, you will find that you are more confident and better prepared if you study according to that plan. If the plan doesn't suit you, or if your course doesn't provide a plan of study for you to follow, then it is essential that you develop your own plan and that you follow it carefully. Make sure that you include your assignments in the plan so that you complete them well ahead of time. Completing assignments helps you to prepare for the LPN exam.
When you are in class, take notes at all times. This doesn't mean that you should write down everything that the lecturer says, but it is important that you summarize what they are talking about and that you note down the most important aspects of the coursework being discussed. Even if you never refer to those notes again, just the act of writing them in the first place will help you to remember the information more effectively. These notes may also be your lifesaver when it is time to study for the LPN exam.
Different students learn in different ways. Some students learn better visually, so it is important that, if you are one of those students, you create graphic representations of the work. For example, you could create flashcards to help you learn from day one right up until the time comes that you will have to write the LPN exam. Flash cards don't work for everybody, so test them out early in our studies by using them to study for example LPN exam papers. If it doesn't help you, you can then find a different method for studying.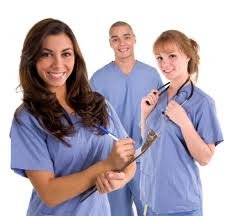 It is highly beneficial for you to take a tape recorder to your lectures with you. If you don't have an old school tape recorder remember that most mobile phones have a recording function on them which you could use instead. This is very useful for when your lecturer starts mentioning topics that are likely to appear in the exam. If you record this you will not run the risk of missing some of what is said. However it is probably best that you ask your lecturer if they are alright with you recording the session before you begin.
There needs to be quite a lot of interaction with your fellow students when you are preparing for your LPN exam. This is because your fellow students may have caught something in a lecture or derived something from the textbook that you simply missed or hat did not occur to you. Discussion with your other classmates can make a huge difference to your success on the LPN exam. And it is very important that you take the time required to actually meet up with your fellow students and talk with them as often as possible in the days leading up to the test.
Remember that you have a textbook to refer to. However, reading the textbook the night before the LPN exam will not be the most effective method of study, especially f that is the first time you look at it. From the outset of your LPN training you need to be summarizing and analyzing the information provided in the textbook. By the time the LPN exam is drawing close you should be studying form summarized notes of the textbook that you created yourself that highlight the key points in each chapter.
Many of the above points are linked to a central idea, namely the idea that you should keep abreast of what is going on in the classroom as well as in the minds of your fellow students and your lecturers. You never know where a useful bit of information will pop up. For example a fellow student may have developed an excellent mnemonic for remembering a difficult concept that you had not thought of. Keep in touch with all the relevant people and make sure that you know exactly what is going on at all times.
It is not enough to simply attend lectures and study groups. Being a passive member of the process will not get you very far. It is highly important that you also take the time to interact with the lecturer and other students. Ask questions about concepts you don't understand or things you would like to find out more about. Enter into discussions and debates and give your full opinion on topics raised. Participation of this kind is one of the best ways to ensure that you have a good handle on the concepts that are likely to be covered in the LPN exam.
Your instructor or lecturer is one of your best sources for help during your LPN training. It is important that you keep in touch with your lecturer and build up a good rapport with him or her. When you need to ask questions, ask them, whether it is face-to-face or via email. If you have a good relationship with your lecturer, and if they can see that you are doing your best to keep ahead of the game, then you will likely be one of the first students to be informed of important information that will help you write the LPN exam.
Last but not least be prepared for what the exam will look like. This involves knowing what topics will be covered in the exam and what format the examination will be in. This is important because different skills are required to answer multiple choice questions than other questions. If you are familiar with the format of the exam that will go a long way to decreasing your stress levels when confronted with the LPN exam on the day that you write it. This is a very important preparation tip, probably one of the most important to pay attention to.
Take a deep breath and clear your mind. As you can see the LPN exam does not need to be a scary thing at all. In fact it has the potential of being a very easy experience for you if you take the time to prepare properly and if you have a good idea of what to expect when it comes time to write the test. The information above serves as a helpful guideline to get you through. For more information, read the information that you will find at The National Council Of State Boards Of Nursing. This is an outline of what to expect in the LPN exam and can help you a lot with your exam preparation.