If you are an LPN there are a number of goals that you could aspire towards, such as becoming an LPN charge nurse. This is a role that comes with a great deal of responsibility as you will be the one in charge of an entire floor, ward, or even a facility during your shift; you will be the supervisor.
This is a job that is often given to RNs, but LPNs can do it as well. A lot of nurses are not aware that this career option is open to them so they tend to overlook it as an opportunity. However it can be a very beneficial role to find yourself in. This article aims to provide you with the information you will need to become an LPN charge nurse. The topics covered include the duties and roles of an LPN charge nurse, the skills that LPN charge nurses needs, the requirements for becoming a charge nurse, your career outlook as a charge nurse, and the pay you can expect to earn as a charge nurse.
Duties and Role of an LPN Charge Nurse
There are a number of essential roles and responsibilities that you will have to fulfill as an LPN charge nurse should you get the job. It is important that you know what those roles and responsibilities are as this is the only way for you to make a good decision about whether or not this is the best line of work for you to become involved in the basic responsibilities, which will be discussed in more detail below, are the following:
Supervise Nursing Staff
Charting
Contact Physicians
Medications
Safety
Report to Management
Care Plan and Patient Care
Read through the stipulations and roles carefully to ascertain if this is the kind of position that you will be able to adequately fulfill and one where you will be able to perform the duties well. If there is anything here that you feel even slightly uncertain about you should immediately reconsider your aspirations to be an LPN charge nurse. But remember that many of these duties can be learned and you could still make a success of the job.
Supervise Nursing Staff
The biggest responsibility that you will have as an LPN charge nurse involves supervising those nurses that work under you. This is your top priority and the reason that you are in the position in the first place. You will therefore need to have a number of leadership skills. For the most part you will be supervising CNAs. You need to ensure that the CNAs and other nurses on duty do the following:
Properly and safely caring for all patients
Properly documenting patient charts and medication administration records
This second one is extremely important. If the medications administration records are not properly documented this can cost the facility its license.
In short an LPN charge nurse needs to be aware of how to keep a facility running. He or she needs to know what must be done and then demonstrate the ability to ensure that it gets done adequately.
A trap you will have to avoid as a charge nurse is becoming too full of yourself. Yes, you will be in charge for the duration of your shift, but you must use your supervisory powers wisely and in the best interests of your patients.
Charting
The LPN charge nurse is responsible for ensuring that all charts are kept up to date and maintained appropriately. This was touched on in the previous section. This is a crucial aspect of the job and one that you will need to be careful about. Any mistakes in this regard could cost you and those under your supervision their jobs. It could even extend as far as having your facility's license to practice removed. What needs to be charted depends on the State Board of Nursing as well as on the protocols of your specific facility. However the following is highly likely to be included:
Hourly, daily, weekly or monthly assessments
Medication administration
Vitals
Safety protocols
Any other required charting
Charts form a big part of the communication structure in the facility. A nurse coming on for her shift will need to be able to read the patient's chart and instantly have a good idea of what the patient needs and how to care for that patient. Overseeing the correct use of patient charts could arguably be seen as one of your most important roles as the LPN charge nurse.
Contact Physicians
Quite often the physician of a specific patient will need to be contacted. As the nurses working with the patients may not necessarily have the time to do this, this usually becomes the responsibility of the charge nurse on duty. There are a number reasons why a physician may need to be contacted. You may need the physician to:
Clarify an order
Request a test, or
Suggest a medication
When you make contact with the physician it will usually be via phone, so you will need to be comfortable communicating on the phone and you will need to have fairly good phone skills to get this right. The actual quality of your ability to communicate will also play a very important role here. In some cases, especially if it is not an emergency situation or one that needs immediate attention, it may be possible to communicate via email or fax with the patient's physician. Further communications and interaction with the physician may be necessary when he or she does the rounds of the patients. If the nurse that is in charge of that patient at that moment is unavailable it will be your responsibility as the charge nurse to consult with the physician at that time.
Medications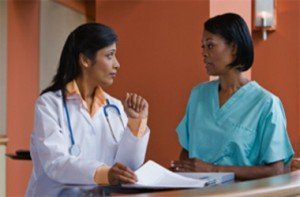 As an LPN charge nurse you may be required to administer medication to patients. As you are a supervisor of other nurses this will be your job and you will have the right to do it if the need arises. This responsibility depends largely on the rules of your state and your facility. In some cases there are drugs that only the charge nurse is permitted to administer, while in other facilities in other states the same drug can be administered by a normal LPN or RN nurse. In some cases you may simply be required to oversee a CNA administering medication to a patient, especially in situations where the patient is required to take the medication himself or herself. It is extremely important, then, that you are aware of what your scope of practice as an LPN charge nurse entails in your specific setting. The administration of medication must follow strict protocols. If something goes wrong and it is discovered that the incorrect administration protocols were followed, this could cost you your job as the charge nurse. It is essential that you monitor this aspect of patient care carefully as medications that are incorrectly administered can prove to be extremely fatal.
Safety
As the LPN charge nurse, you are, of course, responsible for the safety of the patients under your care. However the role extends further that just to the patients. You are also responsible for the safety of the nurses under your care. To achieve this you will need to:
Make frequent rounds to check the health and safety of all patients under your charge.
Make sure that all safety incidents are reported, charted and filed with the appropriate supervisors
Remember not to neglect the safety of your staff members. There are many cases in which their safety may be at risk. For example they may be at risk to exposure to certain diseases or illnesses. In addition some illnesses can cause patients to lash out and be violent, on top of those patients that are naturally violent in any case. You should have an open personality so that the nurses you are supervising feel able to come to you with any safety concerns and that they are not afraid to tell you if something is not right. Safety is one of your biggest priorities as an LPN charge nurse, and you must be sure not to neglect your own safety in the process.
Report to Management
As an LPN charge nurse you will be required to report to RNs who will be in charge of several LPN charge nurses at the same time. The things that you will need to report include:
Patient status
Business matters
Major changes in patient status
Problems with nurse performance
Cases of compromised patient safety
If there is no RN available to report to you will need to report directly to the director of nursing at your facility. This all forms part of the communication processes that nurses have to be familiar with in a hospital setting. Good communication forms the cornerstone of a successful medical facility and ensures that the best interests of the nurses working there as well as of the patients are both protected. To be an LPN charge nurse you need to be prepared to lead, but you also need to be prepared to be led by those that are in a higher position to yourself. Report everything and make sure that nothing goes unnoticed. These are all essential aspects of performing your duties as a charge nurse adequately and to the best of your ability.
Care Plan and Patient Care
Clearly a key part of your duties as an LPN charge nurse will involve patient care. You will need to be able to physically care for the patient yourself as well as oversee their care by other nurses that you are supervising. In addition you will be responsible for developing a care plan for the patient that you and the other nurses under your guidance will have to follow in order to ensure that the patient is cared for as well as is possible. You will create these care plans under the supervision of a registered nurse or physician. These people have a higher degree of skill and intuition about what a patient needs, so it is better to learn from their experience. In addition you may also, as an LPN charge nurse, be required to occasionally participate in the various interdisciplinary meetings that health care facilities hold in order to determine treatment protocol by each member of the care team. Clearly this is a very important part of your job as your primary role in a health care setting is to care for the health of your patients. The skills that you will need to perform this duty as well as others are listed in the next section.
Skills Needed
A number of skills were touched on in the above discussion of the roles and responsibilities of the LPN charge nurse. Let's have a look at the skills required in a little more detail now:
Excellent people skills: This is because you will be required to interact on a personal level with many different people (as you can see from the next point) and to maintain the good image of your facility you need to know how to treat them well.
An ability to work with both the nurses under their supervision and patients and their families
The ability to offer supervision that is straightforward: Your staff rely on you to tell them what to do, so clear and concise instruction is pivotal.
The ability to offer evaluations that are fair and honest
The ability to serve as a nursing educational resource for your staff
A clear understanding of the chain-of-command
The ability to give as well as take direction
The ability to also treat patients when required: You are still a nurse, and so you will still be required to treat patients in your capacity as just a nurse if the needed arises.
Requirements and Career Outlook
Requirements
These are the step by step requirements for becoming an LPN charge nurse:
You will need to have completed a state-approved practical or vocational nurse diploma program at a community college or vocational school OR an associate's degree program
You will have to sit the NCSBN's National Council Licensure Examination
You may have to involves submit fingerprints
You may have to undergo a criminal background check
You may have to take a minimum number of continuing education courses every two years to maintain your license
You will then require sufficient experience to advance to a charge nurse position
'Sufficient experience' will be determined by the facility at which you work.
Career Outlook
The career outlook for this line of work is quite good. Hundreds of thousands of nurses are employed in this capacity. Like all jobs in the healthcare industry the outlook remains good as this is an industry that will always remain strong even as other industries decline significantly. If you are able to get a foot in the door of the health care industry, the position of LPN charge nurse is a very comfortable one to be in indeed.
Pay Expectations
It is quite interesting to look into what kind of pay you can expect to receive as an LPN charge nurse. The overview shows us that:
Hourly Rate: $15.24 – $25.35
Overtime: $17.62 – $38.24
Bonus: $0.00 – $900
Total Pay: $31,668 – $56,980
This isn't bad as all, and if you compare it to an LPN salary you will see the differences:
Hourly Rate: $13.26 – $23.24
Overtime: $14.54 – $34.28
Bonus: $0.00 – $1,165
Total Pay: $27,657 – $50,673
As you can see, the overall pay is substantially better if the position of an LPN charge nurse than in the position of an LPN.
There are a number of popular industries in which LPN charge nurses tend to be employed. The first is the Long-term Care and Rehabilitation Industry. In this industry you could earn about $15.83 – $24.68 an hour. In the Nursing Home industry you can expect about $15.63 – $24.51 an hour, and in the Healthcare industry you can expect around $15.76 – $25.02 an hour. The Medical Services industry pays about $15.78 – $25.28 on an hourly basis, and the Family Medicine industry pays around $15.45 – $24.37 on an hourly basis.
Now that you have analyzed the various roles and responsibilities of an LPN charge nurse and compared the salary to what you are currently earning as just an LPN, you can see why this is one of the better career moves you could make. However there are not really a lot of spaces available as there tends to be only one charge nurse on duty during a shift. However if this is something that you can aspire towards you will be in a far better personal position. Have a look into the procedures surrounding application processes to be a charge nurse in your hospital.