If you are a long-term care nurse or an LVN/LPN looking to improve your qualifications, salary and job prospects, then long term care certification is definitely something that you should look into. LPN/LVN Certification in Long-Term Care, generally referred to as CLTC, is a comprehensive program that covers the entire lifespan of individuals considered elderly and/or chronically ill.
The History Of Long Term Care
Before we get into the why, how and where of long term care certification, let us just take a quick look back into the history of long-term care, how it started, how it grew, and why it is so important in today's world where, thanks to the great strides modern medicine has made, we have generations of individuals who are living for far longer and also requiring long-term medical care for much longer.
Early Long Term Care
Nearly seven hundred shelters were built in England between the 12th and 15th centuries to house long-term individuals such as the aged and the handicapped. Up until 1453 these long-term facilities were generally associated with monasteries and administered by individuals who were jointly appointed by the local bishop and the king. These administrators were trained under the apprenticeship system. In 1536, King Henry VIII had a dispute with the Catholic Church which resulted in his closing all the monasteries, including their long-term care facilities. New facilities were opened in 1546, and the king appointed local citizens to oversee and manage them. In 1601 Queen Elizabeth I stated that individuals should care for the elderly in their own homes as long as possible and then provide them with care in a facility. In 1722 England enacted the Poor Law which is basically equivalent to today's Medicaid law, in the belief that the sick and poor elderly could be better cared for in an institution than at home.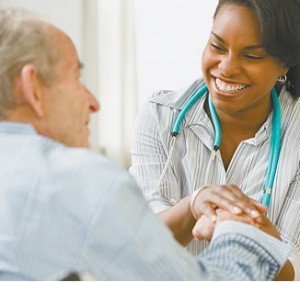 Long Term Care In The American Colonies
The American colonies followed England's lead by establishing similar institutions in Philadelphia in 1722,New York Cityin 1734 and Charleston,South Carolina in 1735. These flourished during the 18th and 19th centuries with most American cities establishing homes for the aged during that period. The move to industrialization in the 20th century increased the need for long-term care facilities for the elderly as the aging workers in the cities had less offspring to care for them, and with industrial wages being so low the typical worker could not afford to save for their old age. With the advances of modern medicine people began living longer and this increased the need for long-term healthcare. In 1935 the federal government established the Social Security Act of 1935. Since then various benefits have been added such as Medicare in 1965 and various other benefits for the aged and handicapped during the 1950s and 1960s. This is what is known as Old Age Survivors Disability Health Insurance today, for which deductions are taken from our paychecks.
Social Security Checks, Policies And Education Requirements
Between the 1940s and 1960s, social security checks gave the elderly access to money with which they could pay for care in what became known as Mom and Pop homes. The attractive subsidies offered by federal legislation to anyone who would erect a nursing home in the 1950s created a building boom that resulted in thousands of nursing homes. Unfortunately this resulted in so many homes being built that it actually resulted in a new unregulated industry. This resulted in the U.S. Senate holding hearings and in Congress developing policies to ensure that the elderly whose medical expenses were being covered by Medicare received high quality care. These regulations became what we know today as the 'Federal Requirements and Guidelines to Surveyors.'
In 1968 a congressionally appointed commission recommended what we know today as the 5 Domains of Practice which individuals must study in order to become licensed nursing home administrators:
Management
Personnel
Finance
Regulations
Resident Care
Long Term Care Certification Programs
There are a few certification programs that are offered to those seeking to obtain their long term care certification, such as the OANHSS Leadership Program and the Penn State program, which we will only mention in passing as this article seeks to concentrate on the long term care certification programs for LPN/LVN candidates.
The OANHSS Administrator Leadership Program
The OANHSS Administrator Leadership Program is a six-day intensive long term care certification program for individuals working in the long term care sector. It focuses on core competencies for long term care home administrators, enhances leadership capabilities, expands your professional knowledge, and teaches new skills and approaches amongst other core competencies.
Penn State Long Term Care Certification Programs
Penn State in Harrisburg also offers a long term care certification program aimed at working long-term care administrators, professionals, and policymakers. This program consists of four Health Administration graduate-level courses and applicants must hold at least a bachelor's degree from a regionally accredited institution and a minimum of three years of professional experience.
Allied Health Professional Long Term Care Certification
In 2010 NAPNES approved the Certificate in Long-Term Care for unlicensed assistive personnel – the Allied Health Professional Certificate in Long-Term Care, otherwise known as AHP CLTC. AHPs can register here:
All non-licensed healthcare personnel can enroll for the Allied Health Professional NAPNES Long Term Care Certification.
Allied Health Professionals must have a healthcare certification.
Allied Health Professionals must register with NAPNES before registering for a certificate program.
LPN/LVN Long Term Care Certification
The National Association for Practical Nurse Education and Service, Inc. (NAPNES) is the oldest association that advocates the education, practice and regulation of practical and vocational nurses. NAPNES is also responsible for the legislation that provides for the licensure, and education of practical nursing in the U.S.
NAPNES certification programs are developed in accordance with NAPNES national standards, which have the mark of excellence in certification programs and are above minimum licensure standards for licensed practical/vocational nurses. All certification courses are approved by NAPNES – check with your State Board of Nursing to confirm if the program is approved in your state.
NAPNES Long Term Care Certification has replaced what used to be the NAPNES Gerontology Certification program. LTC is far more comprehensive and essentially covers the entire lifespan from the cradle to the grave for the chronically ill, not just gerontology. This means that the Long Term Care Certification has a far broader appeal, as it covers excellence in nursing for all age groups, which means that you can care for babies, seniors or any patient in-between that requires long-term care for chronic illness.
The NAPNES CLTC is an excellent certification to have as it has been recognized in the healthcare industry for decades. The latest revised version includes new theories in long-term care and e-learning. Once you have completed the program you can use the LPN, CLTC designation, which serves to inform employers and prospective employers that you have the necessary knowledge in long-term care and are engaged in skill-building.
Academic Requirements
Applicants must register with NAPNES before registering for the Long Term Care Certification program
Applicants must be in possession of an LPN/LVN License in good standing
Technological Requirements
In order to complete the Long Term Care Certification program you will need:
A computer with a minimum of 512 Mb of RAM
At least Microsoft office 2003 with Word and PowerPoint applications
The latest Internet Explorer and Adobe Flash Reader
Windows Media Player 11.0
An e-mail address
A high-speed internet connection
Access to a printer
Virus protection software
It is recommended that you do not use MAC as not all of the multi-media will function on MAC
Program Duration
The Long Term Care Certification Program is a self-learning and self-paced program, so completion times will depend on the individual. Each certification program is open for six months but it generally takes individuals far less time to complete the program.
Program Content
The Long Term Care Certification program is designed to be taught as an e-learning program. Everything you will need to pass the final examination is contained in the program books and online. Textbook and testing activities are done online so you can do them at the time and venue that suits you best. You will be able to purchase the necessary books together with your online certification program. You will be guided through everything during your online registration/purchasing process.
The program consists of:
Reviews and introductions to techniques, skills, and concepts associated with geriatric and other long-term care (LTC) nursing.
Theory related to nursing care provided to long-term care patients.
Providing a clean, safe, and comfortable environment for the long-term care, chronically ill patient.
A review of Anatomy and Physiology.
Therapeutic/modified diets for various body systems.
Detailed coverage of commonly used medications and pharmacological interventions.
Self-study Modules which you will have to complete.
A manual which you will need to study.
A study-guide in which you will have to answer questions.
End-of-module post assessments which you must complete.
A 150-question multiple-choice final examination for which you must get a minimum pass-mark of 80%.
The NAPNES Long Term Care Certification program is approved for 45 CE Hours. One of the great things about the NAPNES Long Term Care Certification program is that because it is a self-study program you can start it whenever it suits you to. Once you have decided that you would like to do the program and obtain your LTC, all you have to do is go to the website and complete the NAPNES registration process, after which the certification program provider will issue you with a password to log-on and you can complete the enrollment and purchase of your Long Term Care Certification program. Thereafter you can begin whenever you like.