What is a Licensed Vocational Nurse (LVN)?
A licensed vocational nurse (LVN) is the same as a licensed practical nurse (LPN). The name that you are given basically depends on what state you work in. LVNs, for example, are found in California. LPN is the more commonly used name. An LVN is a nurse that provides fairly basic care in a healthcare setting and who needs to have specialized training and pass a licensing exam to do so.
Nature Of The Work/duties
LPNs and LVNs may be limited in terms of what they can do depending on their state, but most of them are expected to do the following:
Monitor patients' health
Administer basic nursing care
Change bandages and insert catheters
Provide for the basic comfort of patients
Help patients bathe or dress
Discuss health care with patients
Report patients' status to registered nurses and doctors
Keep records on patients' health
Teach family members how to care for a relative
Help to deliver, care for, and feed infants
Collect samples for testing
Do routine laboratory tests
Feed patients who need help eating
It depends, to a certain degree, on what department in the hospital you are working in as a licensed vocational nurse (LVN)
Employment
According to http://www.bvnpt.ca.gov/licensing/licensed_vocational_nurses.shtml  licensed vocational nurses (LVNs) are employed in the following places:
Acute Medical/Surgical Hospitals
Convalescent Hospitals (Long Term Care, Skilled Nursing)
Home Care Agencies
Outpatient Clinics
Doctor's Offices
Ambulatory Surgery Centers
Dialysis Centers
Blood Banks
Psychiatric Hospitals
Correctional Facilities
Vocational Nursing Programs
These are just a few of the places where you can be employed as an LVN. There are also a number of other options available. It is one of the better areas of nursing to get into simply because you have so much choice in terms of where you work. There is something for everyone with any personality to choose from as an LVN because there are simply so many options that are available.
Licensed Vocational Nurse (LVN) Requirements
There are a number of requirements that you will have to meet before you will be able to become an LVN. It is important that you start your journey by checking these requirements and determining if you meet them: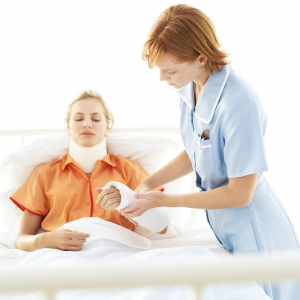 Firstly you need to have a high school diploma or an equivalent thereof, such as GED> this is the most basic requirement.
In most states there are age requirements. Usually you will need to be at least 18 years old in order t become an LVN through an LVN training program.
You will have t pass a background and criminal test in order to make sure that you are of an appropriate moral character for the job. Health tests are also a necessity as a nurse cannot jeopardize the medical safety of her patients by being ill.
Personality Traits
The main personality traits that you will need as a Licensed Practical Nurse are the following:
Compassion
Detail oriented
Interpersonal skills
Patience
Speaking skills
Stamina
Clearly compassion is required as you will be working with people is medically unstable situations who need care on a physical as well as on an emotional level. Detail orientation is sometimes the difference between the life and death of your patient and mistakes cannot be made. Interpersonal skills and speaking skills are also required on the basis that you will be dealing with a number of different people on a daily basis, including patients, their families, and your colleagues. Patience and stamina are required for the repetitive nature of the work and the long hours and physical activity required.
Educational Requirements
In order to be a licensed vocational nurse (LVN) or licensed practical nurse (LPN) you will need to meet the following educational requirements:
You have to attend an accredited training program that will last for about 1 year.
These programs are generally found at community colleges, technical school, high schools and hospitals, although the better options are technical schools and community colleges.
You will have to complete a certain amount of classroom training and theory learning in topics including but not limited to nursing, biology, and pharmacology.
In addition you will have to do a set number of hours of clinical work during which you will be closely supervised.
The best place to start is by contacting your state's board of nursing for more information on accredited programs in your area.
Licensure
If you want to be an LVN with the right to practice you need to pass the National Council Licensure Examination, or NCLEX-PN. This is not something that you can avoid. The exam is required in all states for LPNs or LVNs who want to be licensed and who want to have the ability to practice their skills in a healthcare setting. The exam takes about five hours and consists of multiple choice questions. You will need to pay a fee of $200 to the body that administers the exam, namely, Pearson Vue. In some cases an additional licensing fee is payable to your state's board of nursing in order for your licensing to be final. Every few years you will be required to renew your license and prove that you have engaged in continuing education.
How To Become A Licensed Vocational Nurse (LVN)
Training, Advancement and Other Qualifications
Training to be an LVN is the same as training to be an LPN. You have to complete and accredited program and then write the exam. There are also the same opportunities for advancement. You can become an RN and then specialize in a number of different areas. There are a wide variety of qualifications open to you, such a becoming, for example, a legal nurse consultant, or a nurse that specializes in neonatal care (the term 'neonatal' refers the care of newborn babies). All of these will require you to expand your education by becoming an RN and earning a degree. There are very few specialties, if any at all, that will allow an LVN to enter. It is important that you know, however, that there are options open to you in terms of advancement.
Source an Accredited Education Program
It is very important that the LVN program that you attend is accredited. If it is not:
You will waste the money that you spent to pay for the program as the qualification will not make you eligible to practice as an LVN.
You will have also wasted the time it took to complete the program because you will need to start a brand new program right from the beginning in order to get the skills that you need to be considered for LVN licensure.
The best place to start your search for an accredited LVN program is at your state's board of nursing as this is by far the best and most reliable source of information when it comes to finding not only the best schools, but also the schools that will give you the best chance in life.
Earn Your Associate's Degree
You do not need an associate's degree to be an LVN, you simply need to have a qualification that allows you to write the LVN examination and become registered as a licensed LVN. However it is recommended that at some point in your career you get an associate's degree and become an RN as this will provide you with many more employment opportunities as well as a substantially higher salary. Once you have an associate's degree you can advance your qualification by:
Getting a bachelor's degree
Getting a master's degree
Getting a doctorate
Every time you get a higher qualification you will be making life easier for yourself. You will have increased power, and increased responsibility, with corresponding recognition and remuneration that is in line with the level of skill you have.
Obtain Your Licensure
There are four ways to get licensure as an LVN in California:
Method 1
The first method involves graduating from a California "approved" Vocational Nursing Program. This is by far the most common way in which people become LVNs in California.
Method 2
The second method involves graduating from an Out-of-State "approved" Practical/Vocational Nursing Program. There are not many LVN programs out of state, but many LPN programs are very similar to what you would do in an LVN program.
Method 3
The third method involves completing equivalent education and experience. There are certain subjects that you will have to spend a certain amount of time completing.
Method 4
The fourth method involves completing education and experience as a corpsman in the United States military. The military often trains its own medical personnel in nursing.
Online/Distance Education Programs
There are a number of online LVN course options available. The bets schools to do an LVN online course at are:
Jacksonville University
South University
North Central Texas College
Mendocino College of Nursing
Concorde Career Colleges
Western Career College
One important thing to bear in mind is that you are required to do a certain amount f practical clinical training in order to become an LVN, and this training cannot be done online. Consequently there is no such thing as an LVN program that can be done entirely online. You will have to find a way t do your clinical training yourself, or you will have to find a program that offers a clinical options as well as online training for the theory side of the required coursework.
Job Outlook
This career comes with an excellent job outlook. Between 2010 and 2020 the number of people employed as LPNs/LVNs is expected to grow by 22%. This is, it must be noted, faster than the growth rate for any other occupation at this point in time. Essentially this means that your skills will always be in demand as there will always be a health care facility somewhere that requires the expertise of a qualified nurse. For a stable job, this is one of the better areas to get involved in. the health care industry in general is a good one to work in, and becoming a LVN will give you the opening you need to become involved in this industry at a serious level. There are plenty of opportunities for advancement once you become an LVN.
Earnings
The median wage for an LVN is about $40,300 a year. Median means that about half the LVNs earn more than this and half earn below this amount.
The lowest ten percent earn about $29,600 per year
The highest ten percent earn about $56,000 per year
To a certain degree the amount of money you earn depends on which state you work in, whether you work part time or full time, whether you work days or nights, and how many shifts you are available for every week. In most cases and in most institutions you will be required to work shifts longer than 8 hours every day. The hours are also variable and may not be what you could call 'convenient', but that is the nature of the health care industry where care is needed 24/7.
Becoming a licensed vocational nurse (LVN) or, as it is more commonly known, a licensed practical nurse (LPN) s a great career move because t gives you a foot in the door of the health care industry that you may not have otherwise had. It is appealing to enter this line of work because of the job security and stability the medical profession offers to those who work in it. The salary you earn will not be the best, but it will be fairly decent, and you can be guaranteed of receiving the salary of an LVN until you retire because there will always be a job for you.