Now that you are an LPN you have the opportunity to specialize and become a geriatric LPN. This is a licensed practical nurse that specializes in caring for the elderly. Geriatric studies are also referred to as gerontology. There are a number of continuing education units, or CEU's, which you can take if this is an area that you are interested in.
How To Become A Geriatric LPN
Becoming a geriatric LPN is sometimes considered to be even harder than becoming an LPN in the first place because it is essentially a specialization that requires an advanced level of education and hard work. Here are the steps that you can follow to become a geriatric LPN:
Firstly you need to become an LPN. This involves entering a one or two year course at a certified university, vocational college, or nursing school that will adequately prepare you to be a general LPN nurse.
Secondly you need to get a nursing license. Once you have completed your LPN training you need to apply for the license. License applications go to your State Board of Nursing. Each state has different requirements for its LPN nurses, so do a bit of research to see what is required of you in your particular state. Your state board of nursing will review your educational and other qualifications to determine your eligibility for becoming a licensed practical nurse with the right to practice in that state.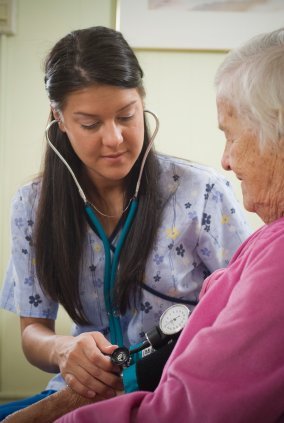 Thirdly you need to apply to write the NCLEX-PN examination. You cannot write this examination unless you have already approved for licensure from your state board of nursing and been approved. Apart from the exam your particular state may also have additional licensing requirements that you will need to meet before you can go any further.
Fourthly you will need to practice as a general LPN for a set period of time. This can vary from state to state and situation to situation, but generally speaking you will need to have worked as an LPN for a period of about 2 years before you can be licensed specifically as a geriatric LPN.
Once you have done that you will need to complete a certain number of hours of geriatric nursing. Some nurses choose to do this while studying to be RNs. The work you do through a degree program counts towards these hours. Otherwise you can simply gain work experience in a setting where elderly patients are the main people you deal with.
Complete some kind of education in geriatric nursing during this time. This can be one or more of the many geriatric CEU's that are available to LPNs. It can also be through a more formal means of studying such as a nursing degree program.
Lat, but not least, you must pass the ANCC Gerontological Nursing Exam.
Geriatric LPN CEU's
There are many geriatric LPN CEU's that you can do if this is the area that you would like to specialize in. http://www.nurseceu.com/geriatric_care_ceus.htm has a long list of just some of the different CEU's that you can do in order to a) meet your continuing education requirements for recertification, and b) advance your own knowledge and become a specialist in the area of geriatrics, or gerontology. Some of the CEU's you can do are the following:
Administering Medications to the Elderly
Alzheimer's Disease
Behavioral Determinants of Healthy Aging
Death and Dying
End of Life
Geriatric Assessment
Hand Hygiene
Health Care Responsibility
Helping People Change
HIV/AIDS
How Staff in Long Term Care Can Promote Quality of Life and Psychological Well-Being
Hypothermia and Hyperthermia in the Elderly
Influenza
Natural Sweeteners
Oxygenation
Pain Management
Physical Activity for Older Adults
Psychosocial Issues Affecting Older Adults
Reducing Hospitalizations with Hypodermoclysis
Sleep and Aging
The Biology of Aging
The Older Woman
Traveling with Disabilities
Urinary Incontinence in Adults
Using Hospice and Palliative Preferred Practices to Create a Plan of Care
Warfarin Communication Toolkit for Nurses
Clearly there are a number of other topics apart from those mentioned here that are an options for you. To go into each in detail would not be a very efficient method of giving an overview. Consequently only the most popular CEU's in the domain of aging will be mentioned here:
Assessment And Care Of The Elderly
Generally a CEU such as this is aimed at being a broad study of caring for the elderly in a healthcare setting and consequently includes topics like:
Physiological changes that happen during the aging process
Common diseases that are present in the elderly
Physiological adjustments that the elderly must make
Interventions to implement when assisting and caring for geriatric patients
Dementia: Differential Diagnoses And Treatment
Dementia is not as necessarily clear cut as you may think it is. There are several other mental illnesses the present like dementia but that are not dementia and therefore require an alternative treatment method. A CEU such as this is aimed at helping you identify and treat forms of dementia as well as how to cope with a patient suffering from dementia.
Elder Abuse
A huge problem that many people are not even aware of is elder abuse. Elderly people are frequently the targets of abuse, and often the abusers are their own family members. However elder abuse has also been known on many occasions to occur in healthcare settings that are supposed to be a safe place for the elderly. In a course such as this you will learn to:
Identify the risk factors that go hand-in-hand with elder abuse
Identify the different types of elder abuse that may occur
Identify the signs and symptoms of elder abuse in different settings
Identify means of preventing elder abuse in at-risk patients
Preventing & Managing Dehydration In The Elderly
The elderly are particularly prone to dehydration. As an LPN with a specialty on geriatrics you will need to know how to prevent dehydration in the elderly patients under your care. A CEU such as this will provide you with the basic information you need about how to prevent dehydration s well as how to deal with it if it has already occurred.
Knowledge Areas For Certification
In order to become geriatric LPN it is probably better if you get certification. There are a number of things that you should keep in mind if you are hoping to earn certification in this area.
You need to apply for certification from the American Nurses Credentialing Center (ANCC). The American Nurses Credentialing Center (ANCC) provides a number of very useful resources for you t study from in order to pass the examination and become a geriatric LPN.  The ANCC provides helpful:
Review courses, and
Sample test questions
These are basically invaluable guides to help you get through the test successfully and it is recommended that you use these resources even if you plan to study with a group or on your own. The ANCC, the best resource for information on this topic, says that the following are the main domains that you should focus on in order to be successful in the certification exam:
Aging and the older adult
Health issues
Communication
Nursing process
Lifestyle, health changes and vulnerability in the older adult
Education
Health promotion and wellness
Management and leadership
Legal and ethical issues in nursing and research
It is essential that you pay the appropriate amount of attention to each of these domains in order to be certain that you are covering all of the work adequately. About 30% of the test will cover actual health problems. The best areas to focus on here are the following:
Pathophysiology
Pharmacology
Nutrition
Cardiovascular problems
Respiratory problems
Gastrointestinal problems
Urinary problems
Reproductive problems
Hematological problems
Musculoskeletal problems
A further 30% of the test is broken up into categories:
Nursing processes
Lifestyle, health changes and vulnerability in the older adult
The division of questions between these two categories is about equal. The rest of the test will be split up randomly between the following broad topics:
Communication
Health promotion and wellness
Management or leadership
There is, as you can see, a lot that goes into becoming a geriatric LPN. However if you are truly passionate about this line of work, it is definitely worth it in the long run. Caring for the elderly is also a very sensible and stable area of nursing to get into. This is because we have reached a point in time where the baby boom generation has reached old age. This means that you will always have work as a geriatric LPN as there are many elderly citizens who require care from a nursing professional such as you.