What Is A Forensic Nurse?
The field of forensic nursing is a very interesting one and one that is a relatively new addition to the industry. A forensic nurse helps in the collection of evidence and gives legal testimony when needed. They help in investigations in to certain crimes, such as sexual assaults, abuse and even deaths. Usually, a forensic nurse would work in a hospital and they serve as the link between medicine and the criminal justice system.
Whereas in most nursing fields, the focus is on helping patients get better here the focus is on collecting evidence so that criminals can be rightfully prosecuted. In this field there are also sub-divisions such as sexual assault specialist and medical expert witness. This is a very interesting field to practice in and can provide a lot of mental stimulation for those who are interested in helping people and in the collection of trace evidence.
Collecting evidence is not easy and while a forensic nurse is treating a victim of abuse or assault, they will need to keep an open eye for any evidence that can be collected. This can be very challenging given the emotional aspects of the job. So why would anyone choose to work in the forensic nursing field? Well, mostly because they already deal with victims of crime and assault and want to find a legal way to help them. Being a forensic nurse covers that exactly.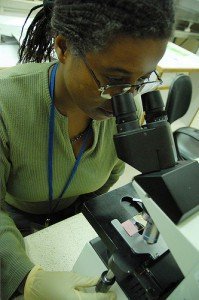 An SANE or Sexual Assault Nursing Examiner usually begins their career as a forensic nurse. This is the field in which someone has to examine those victims who have been assaulted sexually, and can be one that is very difficult to be in. as a forensic nurse, you will be called upon to collect evidence of sexual crimes, and this can include both collecting physical trace evidence at the site of the violence, taking photographs and even noting markings that might allude to how the crime was committed. You will likely also have to give evidence in regards to your findings.
Forensic Nursing Requirements
A forensic is not a nurse like any other. Because of the sensitivity of working in this field, those who do choose it may find that they quickly become disenchanted with the whole thing. This is why the type of person who chooses to work in this field needs to be committed and have a strong stomach. As a forensic nurse, you will see things that disgust you and that offend your morality but you have to keep a straight face and be strong for the victim of these crimes. There will be times when this threatens to affect you on an emotional level, but even at those times it is vital that you keep yourself strong.
In terms of personality traits, anyone choosing to work in this field also needs to have a very strong eye for detail. In a case where forensic evidence is used, even the tiniest of hairs or skin cells could potentially lead to a conviction and thus you must be able to identify everything you see. A forensic nurse also has to have a strong moral code and not allow themselves to be swayed by anything they see. Due to the nature of the crimes committed, especially against children, many cannot stomach what they see and may even feel the urge to vent their anger on the criminal involved. In an abusive situation where someone has brought the child that they have abused into an ER, a forensic nurse is charged with simply collecting evidence and cannot allow themselves to get too involved.
Being a forensic nurse means you will have to stay calm in an environment that is often chaotic. You will also need to be able to comfort victims while still collecting evidence and not getting too emotionally involved. There is a very delicate balance in this field, and this is one that is hard to maintain. In some cases a forensic nurse will not even be able to collect verbal evidence from the patient, usually because they want to be treated but are too afraid to talk about what happened to them. In this case, the nurse will have to infer the details from markings on their body and evidence they collect.
To become a forensic nurse, you first need to qualify as a registered nurse and have an active license. To do this, you would need to complete two to three years of college and pass the NCLEX exam. In this field, there are two different types of nurses, that is, one for adults and one for children. A pediatric nurse in this field will have to work with children and this is a job that is very emotionally difficult.
Cleveland State's forensic nursing program is very well known and has a lot of information and the right courses for those who wish to specialize in this field. There are not many other schools that offer these specializations. In fact, it seems that only about 30% of schools that offer nursing can offer this program.
How To Become A Forensic Nurse
Forensic nursing is very different to any other type because of the amount of knowledge and the type of knowledge that is required.
Not only will nurses in this field have to learn about the basics of nursing and patient care, they will also need to have an in depth legal knowledge, so that they know what to do with evidence and the significance of evidence. There is a real world knowledge that comes with being a forensic nurse and this is often something that either makes the course very enticing to new students or puts them off entirely. In this kind of program, you find yourself moving between police department, hospital and coroner's office quite regularly.
Online/Distance Education Programs
Those who wish to can pursue the theory of forensic nursing education online or through distance learning, but there is no substitute to learning on the job in this field. If you are looking for a good forensic nursing program, try checking out what people are saying in online forums, as this will give you a good place to start.
Job Outlook
In terms of the career, becoming a forensic nurse can have a lot of positive outcomes since criminals are ultimately put on trial, but there are a lot of difficulties in this field too. These include working with the victims of crimes, especially in those cases that involve children. Some forensic nurses will have to work in jails or in correctional departments, though if you choose to, you can also go into private practice.
Though the job opportunities are not as great as those for nurses in other fields, since this is a fairly new specialty, there is a place for forensic nurses in all sorts of institutions. Because not many people are willing to pursue this kind of field though, there is still not much known about it and in the years to come, there will be probably be a lot of research into how a forensic nurse can expand their career options.
Earnings
A forensic nurse can expect to earn about $62 000 a year, depending on how educated and experienced they are. Usually, anyone choosing to work in this field will have worked as an RN first for many years, and thus will be better prepared for the requirements of the job. Because forensic nursing is a new field and is growing, there is still a lot to learn about it, and until the field is explored fully, the salaries will remain low.
A forensic nurse has a duty to their community and to society to help in the capture of criminals. In some cases this is harder than others because the evidence is hidden or it is harder to find, but in the end, even if you can put one criminal in jail through your testimony, you have done a good job. Choosing to become a forensic nurse is sometimes less of a choice than a calling and you may find that with all of the things you encounter as an RN, you need some kind legal way to help the victims of crime. Becoming a forensic nurse will help you catch criminals of violent and abusive acts according to the letter of the law, and this is why getting a good formal training program is vital.
A forensic nurse has one of the most difficult jobs out there because in many cases, they cannot physically help those they see. Instead, they have to help them in an indirect way by catching the people who have hurt them and stopping them from hurting anyone else. If you see it as your legal and moral duty to help the victims of crime, and to help society as a whole, and you have an interest in medicine and in helping those affected directly by crime, you may want to consider a career in forensic nursing.