So you have completed your studies, passed the NCLEX and gained licensure – what now? The first year after nursing licensure is generally a difficult and challenging time for the newly qualified nurse, and many individuals feel like giving up when faced with various obstacles. From getting a job to handling the hours and working in a new place with strangers, feeling as though you will never feel competent and will never fit in, it can take a toll on your nerves, but it DOES get better.
There are some critical information and valid tips on how to handle your first year after nursing licensure in order to enable you to enjoy the fruits of your studies and not give up on your lifetime dream to join the ranks of the nursing profession.
Getting Your First Job
Although there is purportedly a shortage of nurses in the United States, getting your first job is not always easy, unless you studied via a program that organizes employment for their graduates.
Here are some tips to help you to get that critical first job:
Contact the hospitals and clinics in your area and find out what vacancies they have.
You can also contact your Board and find out if they can give you any leads.
Apply for as many positions as you can, as this will increase your chances of getting interviews and becoming employed.
Most newly qualified nurses do not get employed in their chosen field in their first year after nursing licensure, but all experience is good, so do not hold out for a job in pediatrics if you are offered one in neurology. Rather take the job and use the experience that you do get further down the line when you are more experienced and can afford to hold out for a specialty post.
Do not turn down a job purely because of the salary; it is better to be earning less than not earning at all, and it is a tough world out there in the job market.
Signing Your First Employment Contract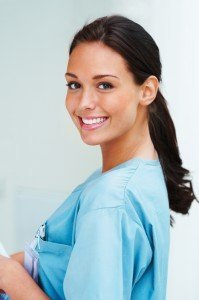 Signing one's very first contract of employment is scary for most people, and there is not much difference in the nursing profession, especially if it is in first year after nursing licensure. There are a few things that you need to look out for before signing on the dotted line; remember, this is a contract, and that means that you are bound by it, so you need to make sure that you know all the little details of our employment:
 ELIGIBILITY: Check what your eligibility is; the HR person will be able to advise you as to whether there is a delay in eligibility; a 90 day delay is fairly common. This is important so that you do not miss nay enrolment deadlines.
BENEFITS: Make sure that all the benefits such as disability, health insurance and life insurance are carefully explained to you. If you do not fully understand them, including all of the 'co-pay' options associated with each plan you could run into problems down the line. As a young, healthy individual you may want to explore the option of taking a higher deductible plan.
DISABILITY: Make sure that you read all of the benefits offered and take advantage of any short and long-term disability benefits offered.
RETIREMENT: Ascertain what the retirement benefits are, how they are accrued and managed. And whether they are applicable as from first year after nursing licensure.
TUITION: Enquire as to whether the institution will pay for your studies. Also ask about tuition reimbursement; how much you are eligible for, when you will be eligible and whether this can be used for certifications and continuing education or only degrees. This is important as you need to partake in continuing education for re-licensure.
How To Become Part Of The Team
It is natural to feel like an outsider when starting a new job, and when that job entails joining a team that may have been together for a while, it can become downright scary. Everyone has gone through joining a team in their first year after nursing licensure, and the one thing everyone will tell you is that it just takes time for everyone to get to know each other and then it will all gel.
This is true, by and large, but there are also a few things that you can do in order to make the transition easier: be friendly but not overly so; offer to help out instead of waiting to be asked to do something; project a positive attitude, even if you are feeling out and nervous; pay attention to how things are done in the unit and adopt the same norms such as arriving ten minutes early for a shift or staying for a few minutes after each shift in order to decompress before heading home.
Take note of things such as whether they usually sit on a specific chair in the break-room or when doing a report and do not sit in their seat. This may sound trite, but ritual is important to some people and observing such idiosyncrasies will make them see you as a "good fit" and accept you into the bosom of the team easier.
How To Build Up Confidence
Despite all the training in the world it is not always easy to gain confidence in your abilities straight off the mark, especially if it has also taken a while to get that first job. Most nurses find their first year after nursing licensure really difficult and many feel like quitting because they feel as though they will never be able to do what they need to.
Here are some tips on how to build up your confidence:
Time Management is really important, so do not waste time chatting in the corridors or sitting around in the tea-room. Be on time for your shifts, even a bit early if possible, and learn to delegate tasks where you can and ask for assistance when you need it; remember nobody expects you to do everything yourself.
Check Hospital Policies about anything that you are not sure of. If you cannot find the answer there then ask a senior. You are a new graduate, nobody expects you to know everything immediately.
Ask Questions – there are no stupid questions, so do not ever feel embarrassed about not knowing something. Finding out the right way to do something and then putting it into practice will give you a great confidence boost.
Be Alert at all times; keeping your eyes and ears open to what the doctors, lab or other specialists are saying will allow you to learn a lot, and with knowledge comes confidence.
PACE – approaching a doctor about problems can be very scary and confrontational at the best of times, but using the PACE approach will make handling problems much easier and will make you feel far more confident in approaching a senior:
Alerting (Mr. X has this problem, is there something you'd like me to do…)
Confronting (Mr. Z's issue is a real concern, can we do Y/could you review the case in order to resolve this as soon as possible)
Escalate (I'm sorry but this problem needs to be rectified urgently; if you're not happy to do this I'll have to take the matter to my superior/the specialist etc.)
Find a Coping Mechanism to help you through the rough patches during your first year after nursing licensure. This can be in the form of another newbie with which to share trials and triumphs or a mentor. Asking other nurses to help you to get some more hands-on experience on drawing blood or starting IVs, for instance, also usually helps, as they will generally willingly do it, and the more you do something the more confidence you will build.
Surviving Work In Your First Year After Nursing Licensure
Your first year after nursing licensure is a pivotal time for you and learning how to survive it at work is crucial to your staying in the nursing profession and making the best of it. In order to do that there are certain things that you need to realize and accept and work around.
Nursing is not a glamorous profession and during the course of your day you may have to deal with various not so nice bodily functions such as a patient wetting the bed or vacating their bowels; this is part of your job and you will need to learn to deal with it. There will be accidents like projectile vomiting, skin tears and G-Tube intestinal fluid explosions that will make an almighty mess; these are just bodily fluids, so handle it and move on.
Nursing is one career in which your day can go from laughter to tears in a moment – learn to cope while at work and, no matter what, maintain your pose and keep a positive outlook. Use humor to help you get through the tough times you will experience at work during your first year after nursing licensure, and then go home and bawl your eyes out if necessary to return refreshed the next day.
Find a way to deal with the frustration that you will experience at times; take a short walk outside and breath in some fresh air, or go to the supply closet and scream into a pillow if needs be, just do it away from the patients and superiors. Finding an enjoyable way to relax after your shift will also do wonders.
Make sure that you get sufficient sleep. If you are changing shifts and cannot sleep ask the doctor to prescribe a light sleeping tablet for you if necessary, but get as much sleep as you can; you cannot deal with ailing patients if your nerves are shot from lack of sleep.
And the final word of advice I can give you is to buy good shoes. You will be on your feet all day, sometimes in excess of twelve hours, and the one thing that you do not need is to have sore feet or a sore back because you are wearing shoes that do not support your full body-weight correctly.
Now go out there and enjoy your first year after nursing licensure, and remember; things will get better.