In this day and age it is important to remember that we do not need to restrict our thinking to the old ways of doing things. Instead we can focus on the new methods that are emerging and consider whether or not those methods are ideal for the situation. Older methods are not always better methods in all situations. An example of a new method of patient care that has an important place in this world is family centered care.
What Is Family Centered Health Care?
According to ipfcc.org "Patient- and family-centered care is an approach to the planning, delivery, and evaluation of health care that is grounded in mutually beneficial partnerships among health care providers, patients, and families. It redefines the relationships in health care. Patient- and family-centered practitioners recognize the vital role that families play in ensuring the health and well-being of infants, children, adolescents, and family members of all ages. They acknowledge that emotional, social, and developmental support are integral components of health care. They promote the health and well-being of individuals and families and restore dignity and control to them". In short the focus shifts from individual patients to a more collective and inclusive view of those involved.
Why Do We Need Family Centered Care?
There are a number of reasons why family centered care is necessary, including the following:
It improves and enhances clinical outcomes for children with special needs.
It provides more support for the families of children with special needs.
It enhances success and satisfaction in the work of medical professionals.
It places a new emphasis on the fact that the way care is provided is perhaps more important than the actual provision of care.
It leads to better health outcomes and wiser allocation of resources.
In short it is a method of providing care that has the best interests of the entire family at heart and is concerned with more than just physical health and well being.
Core Concepts Of Family Centered Care
Family Strengths
There is a strong focus on the strengths in a family rather than on its weaknesses. While traditional approaches to care tend to emphasize what is wrong with a family, the family centered care model emphasizes what is right with the family and assumes that the family itself is more than capable of supplying everything that is needed to fix whatever problem can be seen within the family structure and functioning on a regular basis.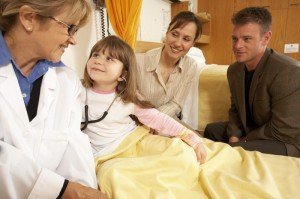 The views expressed at bcchildrens.ca sum up this idea well: The family is the constant in the child's life. We support and empower family members as partners and decision-makers in their child's care and help them cope more confidently with their child's illness.
Respect
Respect is the idea that the health care professionals who are caring for a child in a family are responsible for dealing with the patient in a way that is appropriate in terms of the patient's beliefs. Respect also indicates that there is no room for discrimination within health care and that the choices that the parents of the child who is being treated make are the rules by which care will be administered to that child.
The views expressed at bcchildrens.ca sum up this idea well: Family-centered care requires trust and respect, including respect for each family's values, beliefs, and religious and cultural background. We value families' knowledge of their children, acknowledging their authority as decision-makers and respect their choices.
Choice
It is extremely important that families are given a choice in terms of how to care for their child. From a family centered care approach it is the responsibility of the health care professionals to:
Provide information about the treatment options available for the child.
Provide information about the support options available for the child.
This goes a long way to empowering the child's parents and allowing them to keep some control of the situations.
The views expressed at bcchildrens.ca sum up this idea well: We provide the information families need to make educated choices about treatment and support the choices they make. When families understand their options, they feel less powerless about their child's hospital experience.
Information Sharing
There is an emphasis on the exchange of information between families and healthcare professionals when it comes to family centered care. This includes two main aspects:
The health care professionals provide medical information regarding the care of their children.
The parents of the child provide personal information about the child.
Clearly this serves a practical in that it allows the child to be treated more appropriately, but it also goes a long way to building an important relationship between parents and health care providers.
The views expressed at bcchildrens.ca sum up this idea well: Our professional staff provides medical information to families and values the personal information families provide about their children. This information exchange builds trust and contributes to the partnership between families and caregivers.
Support
In addition to actual health care it is the responsibility of health care professionals who are working form a family centered care model to provide support to the family in more ways than one. This includes allowing them to make decisions themselves and ensuring that emotional and developmental issues faced by the child as well as the parents of that child are properly handled.
The views expressed at bcchildrens.ca sum up this idea well: We support families by respecting their decisions; offering comfort as they cope with the child's illness; meeting the social, developmental and emotional needs of the child; and fostering family members' confidence in their ability to care for their child.
Flexibility
It is important to remember that no family will ever be exactly the same as another. Consequently any care models that treat all families in the same way are not appropriate for caring for the children in that family. Healthcare professionals that work within a family-centered care framework need to be aware that they will need to adjust their methods and ways of doing things in accordance with the specific attributes of each family.
The views expressed at bcchildrens.ca sum up this idea well: Families bring different personalities, life experiences, values, beliefs, education, and religious and cultural backgrounds to the hospital setting. Family-centered care emphasizes that caregivers must be flexible so they can meet the needs and preferences of all families.
Collaboration
One of the main ideas in this type of care model is that everyone involved needs to work together in order to ensure that the child is cared for properly. This includes:
The health care providers who are working with the child
The parents of the child
Everyone should be included when appropriate in terms of decision making and discussion. In some cases a child may be being seen by a number of different healthcare professionals for a number of different reasons, and collaboration in this case can be hard to secure.
The views expressed at bcchildrens.ca sum up this idea well: As partners in care, professional staff and family members work together as collaborators in the best interest of the child.
Empowerment
In many older approaches power is taken away from the family when a child is ill and placed entirely in the hands of the healthcare professionals working with the child. From a family centered care perspective this is simply not appropriate and the idea is to ensure that parents and other family members have a suitable amount of power in the situations.
The views expressed at bcchildrens.ca sum up this idea well: Families have the right and the authority to care for their children. The core concepts of family-centered care empower families in the care of their children.
Old System-Centered Care vs. New Family-Centered Care
In comparison to the core concepts mentioned above it becomes clear that the old system of care was simply not as good as the current system. For one thing there is a lot of family discrepancy in the old system and it has a restrictive definition of the family that affects the physician's ability to provide adequate care. Many see the old system as disempowering to patients and their families and it relies heavily on technology and biomedical science and undervalues the importance of human interactions in health care experiences. Last but not least it is driven by the system. Slowly but surely we can see a shift from the old point of view to the new point of view.
Family centered care is definitely an approach that has increased importance in the modern world of medicine. Approaching care form this perspective is far more sensible and contemporary than old methods and has its place in the world. When choosing a method of care for a patient or a population it is important that you select one that is appropriate for the specific situations that you are faced with. Sometimes this will be family centered care and sometimes it will not.