As a nurse you will come up against a number of difficulties in your job that you will not have been taught about in your training. One of these difficulties involves dealing with patient phobias. When a patient has a phobia it can make treating that patient extremely difficult. Consequently you may find that you need to improvise and develop patient-specific techniques so that you will be able to treat that patient in a way that will not make their phobia worse.
What Is A Phobia?
When considering how to deal with patients who have phobias we need to begin by making a distinction between a fear and a phobia:
Fear: This is a fear that disrupts everyday life for a short period of time and that goes away once the threat is removed or the patient is able to rationalize about the fear.
Phobia: This is a specific fear that disrupts everyday life, that persists for an extended period of time, and that is out of proportion in comparison to the threat which triggered the fear in the first place.
When watching a movie about giant spiders, a normal fear reaction would be to feel frightened during the movie and then perhaps for the next few nights. However the fear can be rationalized and the person will not be disabled in their daily functioning. If, however, the person becomes terrified of spiders for an extended period of time and does not engage in any activities or situations where he or she may encounter a spider, and if they experience intense fear in the absence of any spiders or spider related things, they are suffering from a phobia. This specific phobia is called arachnophobia.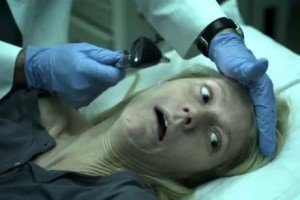 Types
There are, of course, many different phobias. Anything that involves an unrealistic fear of something that is not really dangerous is classified as a phobia. As a nurse there are 3 phobias that you are likely to encounter more frequently than others:
Needle and Injection phobia (fear of giving blood or having an injection)
Agoraphobia (fear of being kept in embarrassing places or situations)
Specific phobia (fear of a particular object or situation)
It must also be remembered that your patient may have more than one phobia and that those phobias may be closely related. If, for example, you have a patient who is afraid of needles, they may also develop agoraphobia. This is because many people, especially adults, and especially adult men, feel embarrassed about being afraid of needles and injections and about fainting when they see blood. Consequently the hospital situation becomes one that is embarrassing for them and they begin to avoid it and show agoraphobic tendencies. Dealing with patient phobias involves having an understanding of how many levels the phobia is present on and how you can create a medical environment in which that specific patient will be able to feel comfortable and safe.
Symptoms
Before you are able to help a patient with a phobia get through a medical procedure you will need to first determine whether or not they have a phobia in the first place. Symptoms of phobias include:
Fear levels that are not proportionate to the threat of the place, item, situation or person
Anxiety or panic attacks
Sweating
Rapid heart rate
Elevated blood pressure
Avoidance of whatever is related to the phobia
Loss of motor control
Diminished self-esteem
Often a patient will be able to tell you that they have a phobia, even if they don't have the right vocabulary, so speak with them about their fear reactions.
It is important to remember that having a phobia does not exclude rationality. Many people with phobias are well aware that their phobia is irrational, but they are still unable to do anything about it. No matter how they look at the situation they cannot control their anxiety response. As a nurse who has come across a patient with a phobia you need to understand this and to accept that the person is doing everything they can. This will allow you to help them with an open mind and a non-judgmental attitude.
Alternate Diagnoses
Before you can give a diagnosis of a phobia you have to determine the following:
The anxiety is not related to another medical condition
The anxiety is not related to another mental condition
The anxiety is not related to a drug
It is very important that you rule the above out. Medical conditions, mental conditions, and drugs can all have repercussions that could present in ways similar to phobias:
They can affect hormone levels
They can affect the ability to rationalize
They can affect what and how the person perceives to be present
As a nurse you are not expected to be able to fully diagnose a patient who has a phobia as this is not, generally speaking, you area of expertise unless you have specialized. Your responsibility is to deal with each patient who presents with extreme fear symptoms of a situation or medical procedure in a way that will make it easier for them to get through the ordeal. Usually you will have to improvise and create patient-specific methods for coping as each patient with fear symptoms like these will be different in a number of ways.
Types Of Medical Phobias
Provider Phobias
One of the common phobias that you may specifically have to face as a nurse is a provider phobia. "Provider" here refers to the person who is providing the medical service. The most common provider phobias are of:
However nurses and lab technicians can also be the cause of provider phobia. As a nurse you will have to deal with provider phobia aimed at you, but also with provider phobia aimed at doctors and other professionals. You provide primary care to your patient, so any phobias they have will be your problem.
An interesting thing to note is that some patients are specifically phobic around medical professionals in white coats and far less fearful round those who are not. This knowledge can be important when dealing with patient phobias. You can, to a certain degree, control the environment that the patient is in by, for example, asking doctors and technicians to take off their lab coats for this particular patient. In addition some environments are more fear provoking than others for certain patients. Suggesting medical facilities that have a more homely atmosphere may help your patient to receive the medical attention they need.
Phobias For Medical Testing Procedures
While some patients have a phobia for a specific person, others are scared of the medical testing procedures used in a health care environment. These people are not afraid of you, but rather of your equipment. For example they may have a fear of needles and injections, or they may be afraid of seeing blood. Claustrophobic patients may fear the MRI machine and agoraphobic patients may fear the waiting room at a doctor's office.
As a nurse you need to refer these patients to a health care professional if they are not already seeing one. Apart from that you will need to develop specific coping techniques for each patient:
Give your patients options and choices in terms of needle phobia and talk to them throughout the procedure. Having them restrained may make them more afraid.
An agoraphobic patient can be encouraged to schedule appointments at quiet times of day, or may be allowed to wait in a separate, smaller room for their appointment.
Distractions for claustrophobic patients undergoing an MRI, such as music, can help significantly. Some hospitals have open MRIs to which the patient could be referred instead.
Pandemic Phobias
A medical pandemic is one that causes many deaths and that is difficult to cure. In addition there tends to be a mass outbreak of the illness all at one time that the medical profession is not immediately prepared to cope with. Examples of pandemics include:
Being afraid of a pandemic is not in itself maladaptive if there is a real chance that you are in danger of contracting the illness. A pandemic phobia is one where patients are terrified of the pandemic even though there is very little chance that they can contract it. In many cases during a pandemic you may find your health care facility filled with people who are convinced that they are ill. The media plays a big part in this as it likes to create panic that is often out of proportion in comparison to the facts. Make informative pamphlets available in the emergency room and doctor's offices and calmly discuss their fear with your patients in a non-judgmental way. Perform the necessary tests – there is nothing more convincing than results showing that they are not sick to help a patient relieve his or her levels of anxiety.
Treatment
Often nurses are faced with patients who create difficulties for them as a result of their phobia while they are attempting to administer alternative medical procedures, such as drawing blood or administering an MRI. As a nurse you may find yourself in a setting where you are treating a patient specifically for their phobia. Many nurses choose to special in mental health care and consequently come across patients such as these regularly. There are three main ways to treat a phobic patient:
Behavior control
Counseling
Medication
Behavior control, or desensitization, involves exposing the patient to the item that makes them afraid over and over again, usually increasing the level of intensity of the exposure until the patient is able to cope. Counseling involves discussing the phobia and its possible root causes in order to determine where the phobia comes from and how to get rid of it. In some cases medications aimed at controlling the resultant anxiety and fear responses are prescribed to help the patient cope. As a nurse you will be required to support your patients through each of these treatment procedures and provide any care that may be necessary.
Improvising When Dealing With Patient Phobias
There are several things that you need to keep in mind when working with a patient with a phobia:
Don't ask a lot of questions. The patient is already feeling overwhelmed by their fear. In order to get to the bottom of their trouble, rather use statements that will invoke a response and build rapport.
In addition to building this rapport you will also need to use legitimating statements, or expressions that show an understanding of the situation from the patient's viewpoint. This is empathy and will help your patient to develop a sense of trust in you.
Patients who are anxious will require a lot of your time and attention. One good method is to over explain what will happen next as many times as necessary so that the patient feels well prepared. Patients who fear trauma need to be reassured constantly that they will not lose anything as a result of the procedure that you are going to perform or that you are preparing them for.
Do not get angry. It is not easy to always be patient with phobic patients especially when you are in a hurry and have a lot to do, but shouting or losing your temper will only make matters worse.
Clearly it is easier said than done to work with a patient who has a phobia of some kind. Most nurses are not trained for this in their basic training courses and it is not a skill that comes naturally to everyone. However you will be faced with this situation at some point during your career and therefore you need to have an idea of the most professional way with which to deal with it. Because these phobias can be extreme mental conditions, you cannot expect yourself to be able to cure them.