What Is A Certified Registered Nurse Anesthetist?
A certified registered nurse anesthetist (CRNA) can perform the same duties as an anesthesiologist during a surgical procedure. They also assist with pain management. Generally, they will work more in rural hospitals than in big cities because there is so much need for these services in places where the salaries are lower.
A CRNA will usually work with other healthcare professionals to help patients manage pain. To do this, they first assess the patient to determine what their needs are. They will then give the anesthesia during a surgery and ensure that the amount of anesthesia is correct for the duration of the procedure. They then also have the responsibility of helping the patient recover from the anesthesia, which takes a lot more work than you may think.
Certified Registered Nurse Anesthetist Requirements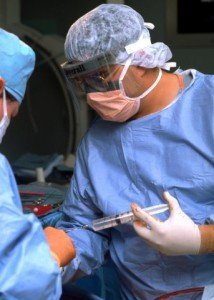 If you are interested in pursuing this field, you will need to be a registered nurse already. To become an anesthetist nurse, you also need to have a certain type of personality. Firstly, you need to be someone who has no problem working long hours. As a nurse in this field, it vital not only to administer anesthesia, but also to monitor the patient as they come out of it. This means working long hours and with people, so you will also need to enjoy relating to others.
As an anesthesia nurse, you would also need to feel very comfortable around machines and of course, needles. You would also need to be comfortable working alone, since there is usually only need for one CRNA in a surgery at a time.
To complete your qualification as a CRNA, you will need to have completed a bachelor of nursing or an RN certificate at an accredited school. Of course, getting experience is vital, so you would also need to rack up some clinical hours assisting with anesthesia. The program usually takes anywhere from two to three years to complete and you will learn such things as anatomy and pharmacology, as well as surgery and obstetrics.
Some of the courses you will have to complete include:
Professional nurse anesthesia – this course involves getting to know all of your duties while working as a CRNA.
Basic anesthesia – it is vital that you learn about anesthetics and the potential reactions that could go with them.
Anatomy – obviously knowing the human body and how it may react to chemical procedures is vital, since if anything goes wrong you will be held accountable.
Chemistry and pharmacology – as a CRNA, you will need to know how to put medications and anesthetics together.
Before you graduate from a CRNA program, you will have to perform certain duties, such as gaining clinical experience and dealing with patients. In fact, while completing your clinical hours, you should be administering anesthesia to patients under supervision to gain experience.
When looking for a good CRNA school, you would need to determine how it fits to your needs and this means asking difficult questions. Besides needing to know the costs of tuition and the possibilities of financial aid, it is also vital to know how that school will prepare you for your career as a CRNA. If you are looking at accredited schools, you can ask them about their curriculum and even sit in on a lecture or two to gain a feel for the school. It is also vital that you know who is on the faculty, since these are the people you will be working closely with to cement your knowledge. As with many other career choices, it is also necessary to know how the school will aid you in finding a job once you graduate, as this can be very challenging.
How To Become A CRNA
As a CRNA, you will need to focus on one field of care. Because you will be working with surgical teams, you will need to adapt to what they are doing. Just as surgeons specialize in one field, so do nurse anesthetists. Some of these fields include surgery for critical care, including cardiac and neurosurgery. Obstetrics is also a popular field, especially in rural areas where it not easy to find an anesthetist. Pediatrics is another specialty and a very important one, considering children's anesthetics is very different to that of adults. Some nurses choose to work in trauma and emergency care, and this is usually done when someone is brought in after an accident or when suffering from an acute illness. In these cases, the nurse anesthetist would need to be ready quickly and act fast.
When looking at school accreditations, be sure to look for a school that is affiliated with the National League for Nursing Accrediting Commission or the Commission on Collegiate Nursing Education. These two institutions regulate what happens at schools so that you get the best education possible. As a CRNA, you will have already passed the nursing exams, but may find a lot of value in attending courses and seminars regularly. You will also need to do a lot of your own reading, and this may include medical journals and papers currently being published.
Because the field is so specialized, many certified registered nurse anesthetists also involve themselves in research and assist in paving the way for anesthetics in the future.
Online/Distance Education Programs
The CRNA course can be completed online or through distance learning for those who have to work full time. Of course, completing this course would not be easy since most of your time will be taken up with hospital work. However, there is a lot of value to completing an online or distance course too, not the least of which is no loss of income. Many accredited schools offer nurses the choice of completing their qualifications online or through distance learning, though when choosing a school in this regard, it makes sense to pick one close to you so that you can drop in on seminars or classes when you have time.
Job Outlook
In practice, a CRNA will work in government or private hospitals, dental practices, clinics or even in ambulatory care. Generally, a CRNA will work in a rural area since this is where the demand is. Because of the specialized nature of the job, there is a big demand for those who can administer anesthesia and this drives the salary up. This is a growing field and many more candidates are completing their qualifications as CRNAs but for the next ten years, the job market is still quite plentiful for those who wish to pursue a job in this field.
Earnings
There are many factors that will influence a CRNAs salary, not the least of which includes the type of employer they work for. Depending on whether the CRNA works for the state or for a private facility will affect how they are paid. Every employer will pay a different salary, but those in this field can expect to earn an average of $157 000 a year. This amount is very high, specifically because this is a field in which more people are needed and that requires a very high level of education to excel in it.
Education is also vital and those with more formal qualifications can expect to earn more, as can those with more experience in the field. As with any medical job, getting experience is highly valued due to the very delicate nature of the job, and those who have spent years in this field, or assisting with anesthesia as an RN can expect to be very well reimbursed.
But salary is not the only benefit of the job. Also important to note is the satisfaction in working with people and in nursing them back to health. As a certified registered nurse anesthetist, you will have to deal with a lot of people, many of them children or those in trauma situations, and the satisfaction of helping them reach full health is one of the best parts of the job.
Becoming a CRNA is not an easy journey to pursue, but for those who are committed to making a difference in their communities and to helping people who are helpless, this is a field that can potentially change lives. It is a lot of work though and will involve long hours spent on your feet answering emergency calls and assisting with anesthesia in surgeries. Due to the delicate nature of anesthesiology, candidates who pursue this career path need to be completely dedicated to it and prepared for every eventuality. This means they may have to spend long hours reading or attending courses so that they keep up to date with modern advancements and with the best ways to care for patients. This is not an easy field to be in and requires determination and patience to the extreme.
For those who do decide to pursue the field of anesthesiology and become a certified registered nurse anesthetist, the job has many rewards not least of which are the large paychecks at the end of each month.