What Is A Nurse Midwife?
In America, a nurse midwife is someone who has specialized in midwifery. This basically means that they have the skills and knowledge needed to provide a service for those women about to give birth. A midwife though can only assist in a birth that is healthy and not a high-risk birth, as they are not doctors.
In the hospitals and clinics in which they work, nurse midwives prescribe medication, give treatments and provide therapeutic solutions to those who need them. The amount of work a midwife can do does differ from state to state and while in some they will be able to care for women from the time they hit puberty until they reach menopause, for some this includes discussing sexually transmitted diseases and aiding sexual health for both men and women.
Generally, a midwife will work with a gynecologist or obstetrician to ensure that the woman having a baby is completely comfortable and healthy. A certified nurse midwife will provide not just physical care for women, but emotional support too. They can also often offer gynecological services for those who need them, including pap smears and breast exams. In terms of prenatal care, they have the responsibility of providing women with information about their pregnancies, helping them with medical treatments if necessary and even helping to develop relationship bonds between man and woman, and mother and child.
Midwives usually work in hospitals and birthing centers, but can also be in private practice and sometimes assist with home births. As previously mentioned, in a healthy pregnancy it is usual for a midwife to deliver the baby, but in a high risk pregnancy, a doctor must attend to the birth.
Being a midwife sometimes means being called out at strange times, since a natural birth will happen naturally. A midwife needs to be prepared for anything any time and this can sometimes mean working very long hours and being called out in the middle of special occasions or when they are sleeping.
Certified Nurse Midwife Requirements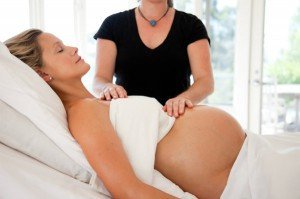 To become a nurse midwife, you need to have an interest in children, babies and birth. A certified midwife is one who will be compassionate towards people, but will have a strong sense of propriety too. This is sometimes necessary, especially when mothers are young or unwed and need assistance with learning how to take care of their babies' health and their own during pregnancy. A midwife should have a certain amount of patience for mothers, and must be able to talk openly and honestly about sexual issues. This is a subject that is sometimes uncomfortable for people to discuss, but it is a necessity, especially when a baby is involved and this is where the nursing midwife comes in.
A midwife will also need to have the skills and knowledge needed for the job. This means that they will have to become certified, which they can only do when they study. A nurse midwife is usually qualified as an RN, or has a degree in nursing science. In high school, it helps to have taken course such as biology, chemistry and health related studies, since these all assist in learning about the human body and assisting mothers where necessary. They should also have studies sociology, computer skills and home economics, since these will all be put to use once they start jobs as midwives.
Upon looking for a college at which to study, those who wish to become nursing midwives will need to look for a college that is accredited. They will also need to do some research to determine which colleges have the best nursing programs and which can provide them with the necessary clinic hours so that they can speed their way to a degree. There is also an exam that they will need to complete so they have to ensure that to prepare for it, they have the necessary information, which only an accredited college can give.
Before you even select the school you want to attend, you will need to ask them pertinent questions such as what the costs of the program are and whether there are additional fees that you will need to pay. If needed, you may also have to ask for financial aid. You also need to know whether the school will really prepare you for your career as a midwife, so it makes sense to ask others for their opinion on a school to attend. You will need to know which midwifery courses they offer, the requirements you need to attend and how experienced their staff is.
One of the most important questions you can ask them what steps they will take to help you find a job once you graduate. This may not be something you are thinking about before you enter a study program, but eventually, it will become an issue and that is why it makes sense to plan ahead.
How To Become A Certified Nurse Midwife
To become a nurse midwife, as an RN, you will need to specialize in this field. This means attending courses and opting for additional hours to work in a midwifery environment. An RN can specialize to become a midwife, and this can be done through an accredited institution. To do so, they will need to study further and will need to have passed their exams.
Typically, you will be called upon to complete courses such as:
Physiology – this is an advanced course that will help you understand the inner workings of the body, both for men and women, so that you can assist in all kinds of sexual health problems. It will also help you determine how best to help a woman who is giving birth.
Breastfeeding – part of a midwife's job is assisting new mothers learn how to breastfeed. This means teaching them how to get babies to latch and how to care for themselves and their babies during the breastfeeding period.
Newborn care – once a woman has given birth, part of the midwife's job is to assess what the newborn needs and help the mother care for him or her. This also means being able to give them the best advice on how to feed and clean their babies and general care instructions.
Gynecology – this is as simple as it sounds. It is vital that a midwife has the tools and knowledge he or she needs to assist in caring for female patient's sexual health. This can involve giving breast exams and pap smears, and in some cases, dealing with cases where the patient needs help with gynecological problems.
Health policies – this is vital as the midwife needs to abide by certain rules of government and the place of work. If for example, someone has an issue that goes against a legal or moral code, the midwife needs to be able to assess it and deal with it.
Pharmacology – even a midwife has a need to know the basics of medication as he or she will provide medication to those who need it.
Reproductive health – in the case of childless couples or those who need reproductive assistance, a certified nurse midwife can assist in assessing where problems lie and in helping couples deal with them.
To get into a good school, you usually need a degree in nursing and to be an active registered nurse with a valid license, some experience in the field, good grades on your statistics courses, a letter of recommendation and sometimes, an essay detailing why you wish to specialize in this field.
Job Outlook
In many fields of nursing, there is a need for more candidates to fill the many job openings and nursing is no exception to this rule. Due to the shortage of certified nurse midwives, hospitals and clinics alike are clamoring for those specializing in this field. In fact the Department of Labor predicts that there will be even more job opportunities for midwives in the next ten years. They estimate that there will be a 26% increase in the amount of jobs, which means that more midwives will be needed and the salaries will go up. But midwives should be wary of looking for a job just where the biggest salary is.
In many cases, the places that need midwives the most are the rural areas and smaller towns. This is because they do not have big, fully equipped hospitals like the big cities and in these the nearest hospital may be many miles away. As such, a certified nurse midwife is needed to deal with healthy births and with assisting those who need care. They will usually do this in conjunction with a doctor or other certified medical professional.
Earnings
For a nurse midwife, the salary really depends on the type of employer. For those who work in hospitals and private clinics, the pay may be higher than for those who are working government institutions or in state owned birthing centers. The more educated a nurse midwife is, the more he or she can earn so those with more advanced training have the potential to earn a lot more money. As a rule, those who have specialized in a certain field can make a lot more money than those who are just entering the career path. They fall on the higher salary scale.
Annually, a certified nurse midwife can make about $90 000 a year, especially if they have a lot of experience. This salary will obviously vary depending on where the midwife lives and how in demand he or she is. The salary will also be influenced by the amount of hours worked. Because pregnancies are unpredictable and a birth can occur at any time, a midwife may need to go out to work in the middle of the night, and of course have to charge for this time. How much they make really depends on how the billing is done.
Becoming a certified nurse midwife is a big commitment and only those who have an interest in making a big contribution to society and to the world. Because of the need for education of mothers and of those who need to know more about their sexual and reproductive health, there will always be jobs for midwives. Although the economy is not very good right now, for those who are midwives, finding a job will always be easy.
But this is not to say that the job itself is easy. Midwives have to be on their feet at all hours and this sometimes means getting out of bed in the middle of the night to go and deliver a baby. Births are not easy and in some cases, they can take hours which means that the midwife will be at work for longer than the usual eight hours. This is not an easy job and not everyone can do it. A midwife must also have very good interpersonal skills since they will often be called upon to help with health issues and to talk about issues that are sensitive.
As a midwife, your career can go in just about any direction and there are many facets to the job. The salary for this kind of job is very good and the satisfaction that comes with helping all kinds of people is another great perk of the job. Anyone who wishes to become a midwife should not just prepare for it, but embrace it since this is more than just a career choice. Choosing to become a certified nurse midwife means choosing to put others ahead of yourself and helping make people happy and healthy. This is sometimes not too easy to do, especially when you are tired or when you have things going on in your own life. But the rewards of doing so are plentiful and for those who decide to pursue this career, there is a rarely found satisfaction in making a difference to people's lives every day. This is why so many people choose to become a certified nurse midwife.