What Is A Burn Unit Critical Care Nurse?
A burn unit critical care nurse has a very important duty to fulfill to injured patients. For those who come in with burns, the trauma of having been through this experience can often be just as bad as the injury. A nurse in this field will be dealing with all types and severity of burns from a simple scalding with hot liquid to serious third degree burns caused by fires or hazardous chemicals. The burns are measured by the degree to which they have affected the body and nurse needs to be able to analyze the burn, and the amount of body affected by it to be able to treat it.
This means that a nurse will have to diagnose not just the severity of the burn, but the cause whether it is electrical, chemical, caused by liquid or contact with fire. They will also have to provide emotional support to families dealing with the burns of a loved one. In some cases, they will have to treat the burns, which can include applying ointments, changing bandages and talking patients through burn care.
Burn care usually involves the following:
Initial assessment – this is when the nurse determines the severity of the injury. First, they will determine the degree of the burn. Then they will need to calculate the body percentage affected by the burn and the cause of the burn. Because of the trauma caused by burns, this also means that they will need to assess any emotional damage caused by the experience. All of this then goes to patient care and monitoring.
Next comes management of the burn. This means checking the burn regularly and meticulously, while also ensuring the patient is comfortable. Caring for burns is not like caring for any other type of wound; it is time consuming and can be very painful for patients, so the nurse on duty needs to be able to manage the situation.
In the case of a severe burn, pain management is also important, and this means that the nurse on duty will have to manage medications and the like to keep the patient comfortable.
Burn unit critical care nursing is a specialized field and those who wish to pursue it have to do a lot of work to get into it. The nursing staff in any burn unit will make up the largest component of the team, and as such are responsible 24 hours a day for the patient's care. Coordination of this team is also time consuming and may be one of the duties a burn nurse has to take on.
Requirements For Becoming A Burn Unit Critical Care Nurse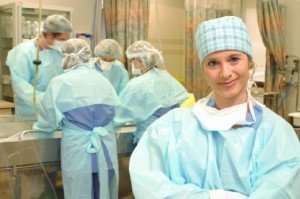 Becoming a nurse in this field requires special personality traits, since most of the care is in the details. The nurse will also establish a special relationship with the patient and may be called upon to be a contact for the family of the victim too. This means that in terms of personality, they need to be both patient and have excellent attention to detail. Due to the nature of burns, and because they can become infected so quickly, it is vital for the burns nurse to have the knowledge to do their job well and the tenacity to ensure they are constantly on top of their game.
To become a burns nurse, you will need to complete a degree as an RN. This means at least two years of studies and then completing at least 2 000 clinic hours. This can take an extra year. Once you have done this, you will need to do a specialization course in burns, since you will be dealing with these all day. This type of training is not difficult to complete, but it is time consuming, so for those who wish to pursue it, they may need to take extra time to complete this specialization.
How To Become A Burn Unit Critical Care Nurse
Getting a license to practice nursing is as simple as passing the state exams associated with this, once you have completed your years of study. For those who wish to practice, there is a need to renew your license yearly. Some of the best schools that have nursing programs include Walden University, Kaplan University, the University of Phoenix and Grand Kaplan University.
A burns unit nurse should be comfortable with people, since they will need to establish relationships and will need patience and good communication skills. These nurses also need to get certified past their RN license, so they may have to get special certificates such as the Advanced Burn Life Support certificate or Trauma Nursing Core Course certificate. All of these can assist in the nursing career and will help anyone with an RN degree really stand out when looking for a job.
Online/Distance Education Programs
Those who wish to do so can also become accredited online, and simply need to look out for a program that is accredited in the state in which they live. This is vital, since almost anyone can offer a course on the internet, but very few institutions allow for an accredited degree or diploma. For those already working in the field, a distance program is available too and can be completed, though not in the same time frame as a full time program.
Earnings
Whether in burns unit nursing or in other fields, a nurse simple cannot afford to work without being paid. Thus for those who don't know it, the general salary for a burns unit critical care nurse is about $70 000 a year. However, this does depend on the experience level of the nurse, and the level of education they have. What is also important to note is the state in which the person lives, since this will dictate salary.
Each state has its own requirements when it comes to nursing and this means that the nurse's salary is affected. A nurse who lives in a state that has a lot of job opportunities but very few people to fill them will generally offer higher salaries than others, since they are desperate to get people into these positions.
Job Outlook
As for the actual job, there are many things to consider when working in an actual burn unit. For one you will have to work long hours and sometimes this means sacrificing your own social engagements. However, because the career prospects are so good for the next ten years or so, and job growth is estimated at a high 26%, there may be some leeway in this.
Also important to note is that you will need at least two to three years of college education to enter this field. Because it is an exclusive field, salaries are driven higher. There are many chances to advance in this career path too, since there is so few staff to fill basic positions. There are often many advanced nursing positions available in burn units. Even within the burns unit, there are many other specializations, such as working with chemical burns or working only with children. This makes it more intriguing and provides more incentive to work in burns.
As with any position though, there are some downsides to becoming a critical care burns unit nurse. For one, you will have to witness a lot of pain and patients who are confused and hurt. This can be very emotionally draining, which is why it is recommended that nurses in this position go for counseling. You will also have to work long hours, and these are irregular. Where you may work a twelve hour shift during the day, the next night you may have to work for twelve hours too. Thus, your body clock cannot regulate the amount of sleep you get and you may need to take a break at least once a week.
Also important to note is that those job opportunities that pay the best also require a higher level of education, so to advance in this career, you may need to study further. This can be very difficult for those who are already working, especially since working such long, erratic shift hours means less time for personal pursuits.
A burn nurse must be properly licensed and must have experience if they wish to get more opportunities. This means it takes time to advance and you may not be able to get a better salary until you have done your time.
Becoming a burn unit nurse is a big commitment. There is a huge amount of pain and suffering that you will see and the long hours may take their toll on your body and your mind. This is also a very rewarding field to be in though, as you watch people heal and build close relationships with them and their families. It requires a lot of hard work to get to a position where you could be considered experienced, and to earn a bigger salary, but this gives you a goal to work towards. Becoming a burn unit critical care nurse is not easy and it certainly is not for everyone, but it is immensely satisfying.