What Is An Ambulatory Care Nurse?
An ambulatory nurse is someone who works with outpatients and assesses their needs quickly. This involves seeing everyone who comes into a hospital or clinic and assessing their level of need. Some will need care very quickly, such as anyone who has been in a car accident or those who cannot breathe or are bleeding. In some cases, patients can wait for treatment, that is, those who do not have a life threatening condition. The ambulatory nurse has to asses that and deal with the high volume of patients who will come in for treatment.
Ambulatory care nurses also help patients outside of a hospital environment. They will assist with managing pain and helping improve patient health, especially those who have to live with a chronic illness or a permanent injury. They do medical screenings and will perform triage to assess the nature of wounds and problems that patients experience.
Ambulatory care itself refers to the type of care for which patients do not need a hospital. Also called outpatient care, this is a field that requires nurses to help people who are not in danger of dying. Many hospitals have admittance rooms where these patients can go and where nurses can assist. A sprained ankle for example, may be very painful but the patient will not need to be admitted to the hospital for care. The ambulatory nurse on duty can assist the patient.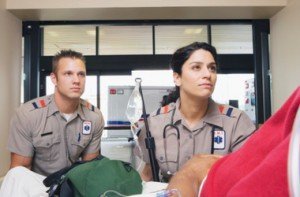 In many cases, an ambulatory nurse will work in a doctor's office or clinic where they can assist patients who need chronic medication or assistance with smaller problems. They should be able to conduct x-rays and ultrasounds, take blood samples and do all of the necessary tests for those patients not in a life threatening situation. Part of this type of care is also helping prenatal patients monitor the progress of their pregnancies. An ambulatory nurse also has the responsibility of ensuring patient safety, so when not working in a secure environment such as a hospital, they will have to ensure that the patient is safe.
Requirements For Ambulatory Care Nursing
An ambulatory nurse will be faced with many different duties and in order to perform these correctly, they will need certain personality traits including:
Critical reasoning skills – for those faced with a potential emergency situation, being able to immediately distinguish the nature of the situation is vital. This means that the nurse will be able to immediately determine the extent of the emergency and whether or not it is life threatening. In this way, they can either deal with the problem or send the patient on for more care.
Commitment – because an ambulatory nurse has to provide care for the life space on patients, they need to be committed to working with people in the long run.
People skills – because of the nature of the job, an ambulatory nurse will be faced with all kinds of people who need help. These people will be in frustrated and emotionally heightened states and this means that the nurse has to be able to relate to them and calm them down.
Passion for new developments – this is vital in ambulatory care since there is so much that happens in the world at any one time. A good nurse will understand how modern technological developments and developments in the medical field will help patients and will be able to apply these.
When it comes to education, the ambulatory nurse needs to have a wide range of knowledge across the medical field. This is because they will have to deal with the problems that come in and these could include anything from a broken arm to low blood pressure to a wound. To do this, ambulatory nurses need to study to become a registered nurse or RN, which they can do with just two years' experience. Though they will not need additional training, this does exist and those who wish to pursue an additional qualification in Certified Ambulatory Nursing can do so with extra training. The nurses in this case will have to get 2 000 hours of service, which equate to about a year.
They will also need to be licensed according to the state in which they live and will very likely need to write the NCLEX exams. To become an ambulatory care nurse, you will need to be an active registered nurse with a diploma in nursing, or a degree.
Some of the best schools recommended for those who want to get these degrees include:
The University of Phoenix – this college has a dedicated health and human services division in which those who want to pursue a degree in nursing can do so. To register at this college, potential students will need to collect information from the college and be in possession of a high school diploma.
Walden University – this school of nursing has been known to produce some of the leaders in nursing and this is where those who wish to can specialize. For ambulatory nursing though, you will need to study a BSN or RN qualification.
Kaplan University – another great school, this is one that allows you to study online, which is great if you are already working.
How To Become An Ambulatory Nurse
To become an ambulatory nurse, you will first need a college degree, but once you have obtained that and passed all of your exams, you can specialize in ambulatory nursing by attending courses. This specialty is very important in nursing since it allows you to diagnose what problems may be affecting people and how to help them with these. It can be an exciting job and will certainly keep you on your toes. You will also need to obtain an associate's degree from an accredited institution, and then obtain your license by taking the NCLEX exams.
Online/Distance Education Programs
For those who wish to study online, there are many accredited programs that can help you do this. These are often run by a physical institution trying to encourage more enrolment and if you are already working in the field, can help you obtain your formal degree or diploma. These also give you the option to study what you want when you want to, so they can be structured around your schedule.
Job Outlook For Ambulatory Nursing
An ambulatory nurse can work just about anywhere including:
A day surgery or doctor's office – in this case, the ambulatory nurse would be required to do some admin duties and also provide care for those whose cases are not serious enough to see the doctor. This may include stitching up small cuts, assisting with asthma attacks and in some cases, referring patients on.
Community centers – the work involved in these is a bit different to that of the doctor's office. In this case, you may have to deal with those who come in with problem such as those mentioned above, but also who have addictions, who are suffering from environmental problems such as allergies and improper nutrition and even situations of abuse.
Schools – in this case you would be dealing only with children and the types of problems wouldn't be too severe. These could include cuts and bruises from falls, asthma attacks, allergy attacks and in some cases, genuine illness. In these, the ambulatory nurse would need to diagnose the problem and then recommend a course of action.
Generally, an ambulatory nurse's day would be filled with making diagnoses based on what they see in patients. This involves being on your feet all day and starting new relationships with patients. Because the situation can be frightening for patients, there is also a degree of mental and emotional support that comes with it and this can be very draining for an ambulatory nurse, which is why many of them opt to go for counseling.
Earnings
The average salary of these types of nurses is about $50 000 though this does depend on experience and where they work. Those who work in private institutions may earn more than those who work in government hospitals for example, or in community care centers where they are paid from tax money. The state you choose to work in is also important, since the amount of jobs available per state may dictate how much an ambulatory nurse should earn.
Many labor brokers do predict growth in this field and though people being hurt should not be on the rise, it sadly is. What many nurses are experiencing is because of the rise in population, there is also a rise in human activity and this is bringing about the need for more ambulatory nurses.
For those who wish to pursue this field of nursing, understanding how the role works and being able to emotionally separate yourself from patients is important. Also vital is the education and knowledge that goes with this role, and this can only be obtained by putting in years of time and practice. Becoming an ambulatory care nurse can be very rewarding though as you do so much for the community and so much for the society in which you live. For those who wish to pursue a career that gives them a chance to do new things and meet new people, ambulatory care nursing is it.